As the execution of convicted drug smugglers Myuran Sukumaran and Andrew Chan looms closer in Indonesia, a senior government minister there has warned Australia there could be a "human tsunami" of asylum-seekers heading its way if protests over the two men continue.
Tedjo Edhy Purdijatno, Indonesia's Political, Legal and Security Affairs minister, made the bizarre threat during a speech at Yogyakarta university which was broadcast on the government-favoured Metro TV.
"If Canberra keeps doing things that displease Indonesia, Jakarta will surely let the illegal immigrants go to Australia," said the outspoken former naval chief.
"There are more than 10,000 [asylum seekers] in Indonesia today. If they are let go to Australia, it will be like a human tsunami."
The Indonesian government are losing patience with the stance taken by Australia's Federal government with regard to the two men, who were recently moved to Besi prison on Nusakambangan, Indonesia's "death island" as they wait to hear the results of appeals by others sentenced at the same time.
Recently Australian prime minister Tony Abbott appeared to support a growing campaign in Australia for holiday-makers to boycott Indonesia if the executions go ahead. Abbott also incensed Indonesia by referring to the AUD$1bn (£500m) given in aid following the 2004 tsunami.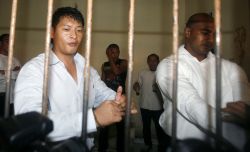 The Indonesian government believes Australia should respect its laws and stop interfering. The security minister also shrugged off suggestions that any interruption of trade between the two countries in the event of the executions taking place would be harmful to his country.
"We have calculated, in fact, Australia enjoys the surplus on the Indonesia-Australia trade," said Tedjo. "Australia will in fact receive pressure domestically if it stops its livestock exports to Indonesia since Indonesia is Australia's main market."
Along with seven others, collectively the "Bali Nine," London-born Sukumaran and Chan were convicted of attempting to smuggle over eight kg of heroin from Indonesia into Australia. The two were sentenced to the death penalty because they were the ringleaders.
Supporters say the two men have changed radically in prison, Chan becoming a Christian pastor and Sukumaran an artist who teaches other prisoners to paint.