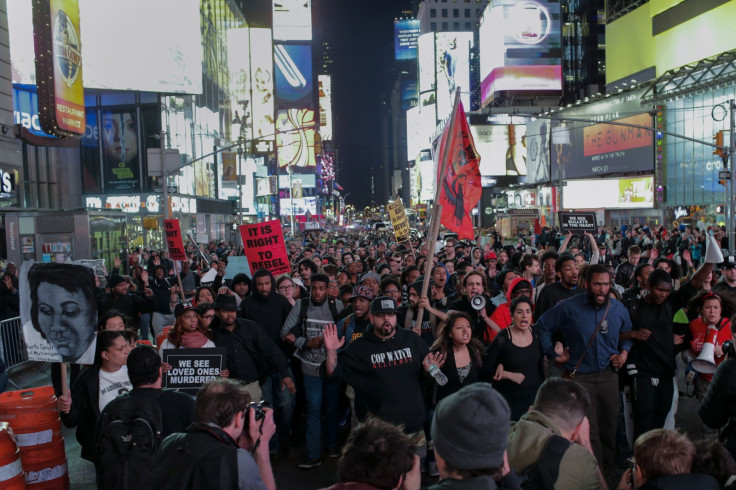 Protests in memory of Freddie Gray who died in police custody have spread from Baltimore to cities throughout the USA.
In New York, protesters marched from Union Square towards Harlem, with numbers swelling to more than 1,000 along the way. There were clashes with police and 100 people were arrested, said the NYPD.
In Boston, 1,000 protesters gathered outside the police headquarters chanting "Every night and every day, join the fight for Freddie Gray!", reports the Guardian.
Nikea Ramsey, whose brother was shot dead by Boston police in 2012, told the Associated Press that: "Me and my family, we stand with Baltimore. We stand with Ferguson. This is too much and it's getting out of hand."
There was a march in Minneapolis, where 1,500 protesters marched carrying a coffin, while demonstrations also took place in Ferguson, Missouri, the scene of riots last year after unarmed black man Michael Brown was shot dead by a police officer.
There were 11 arrests at a rally in Denver, Colorado, where police said protesters were detained for "resisting police, disobedience to lawful orders, obstructing roadways, and interference".
In Washington DC, demonstrators performed a sit-in protest at the junction of 14th Street and U Street, from where riots spread after the death of Martin Luther King in 1968.
Protests in Baltimore last night (Wednesday 29 April) were peaceful, with 2,000 gathering near City Hall and marching to Penn Station. All dispersed before the week-long 10pm to 5am curfew came into force.
More than 3,000 National Guard and state troopers, along with other law enforcement officers, were involved in ensuring order.
Baltimore police said that the official report into Gray's death would not be published immediately.
Capt Eric Kowalczyk said on Wednesday night that the report would remain closed to "protect the integrity of the inquiry".
Dozens arrested in Monday night's violent unrest in Baltimore, in which police officers were injured and buildings and cars torched, were released as police were unable to pull together the necessary paperwork in time.
"We've come up on a timeline. We are releasing them with future prosecution in mind... We're not giving up on them," said police commissioner Anthony Batts.