Live
Baltimore Police are calling on college student protesters to abide by their universities code of conduct.
Protesters arrived at Penn Station in Baltimore, according to authorities, and have begun a peaceful protest through the city.
Police have announced that no arrests have been made today during protests.
Baltimore Police Captain Kowalczyk told reporters that they will not release information about their Freddie Gray investigation to the public, but instead with give the state's attorney general all of their findings.
02:07
Live footage from the protests in New York City.
02:07
Several reports from New York, where demonstrators are using the hashtag #NYC2Baltimore, indicate that protests have turned tense. Police are reportedly arresting protesters and are getting physical.
00:53
Demonstrators in Boston are using the hashtag #Boston2Baltimore to document the rally turned march.
23:55
In New York, a large group has gathered at Union Square. The daughter of Eric Garner and the aunt of Akai Gurley have spoken to the crowd, according to reports on Twitter.
23:45
Scenes from the protests in Baltimore:
23:24
Baltimore Mayor Stephanie Rawlings-Blake said on 29 April that she is working with Freddie Gray's family and with faith leaders to clear up "misinformation" that could case further unrests, the Baltimore Sun reported.
According to Hassan Murphy, a lawyer for the Gray family, the 25-year-old's family called for the meeting with the mayor on Wednesday. "We are grateful to her for being here and sharing with us what the plans are for the next several days to assure us all that this city is in great hands," Murphy said. "We stand by our mayor. The family stands by our mayor."
The family has called for peace, Murphy added, and wants the investigation "to be carried out in a way that gets us to the right result, and not necessarily one that is rushed."
The Baltimore Sun reported that Rawlings-Blake is worried that misinformation about what information will be made available on Friday will cause unrests. Baltimore Police announced that its findings will not be made public.
"I had a chance to really lay some things on the line with them, answer questions," the mayor said of her meeting with the family and religious leaders. "I thought it was very important for us to have a conversation about how we just don't seek justice but we make a pathway forward to have justice and peace."
23:16
Newsweek is reporting that New Yorkers are also demonstrating in solidarity with protesters in Baltimore.
23:12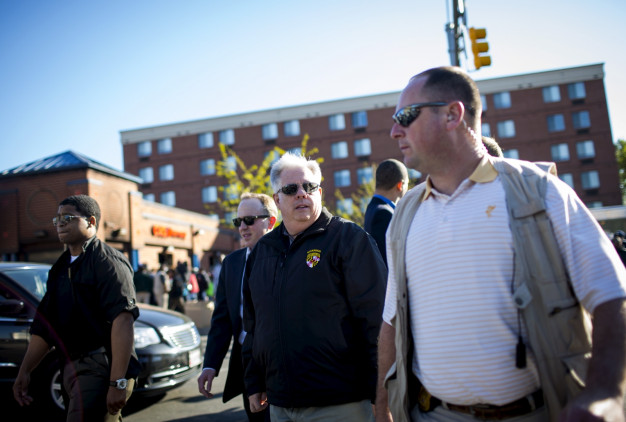 During a press conference, Maryland Governor Larry Hogan says, "We're very encouraged over what we've seen in the past 24 hours." Hogan adds that violence will not be tolerated.
23:04
In Boston, Police Commissioner William Evans announced that he had called in additional officers to patrol the rally that will occur in front of the police headquarters in Roxbury. Demonstrators have already arrived at the rally,which is set to begin at 6pm EST.
22:51
Baltimore Police reporting that protesters are heading southbound on Charles Street towards Lexington Street.
22:44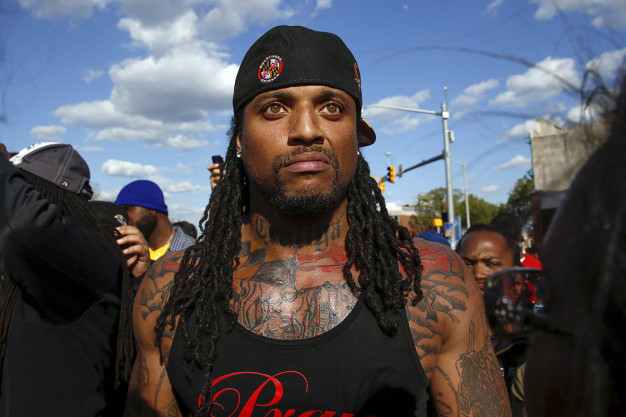 Peaceful protesters have begun to gather in Baltimore City's Penn Station, Baltimore Police have announced on Twitter. The police have called on university students to follow their schools's code of conduct when protesting. Authorities also announced that no arrests have been made during the peaceful protests.
The city of Baltimore instituted a week-long citywide curfew on 28 April at 10pm EST. Despite unrest last night, which was dispersed by police through tear gas and smoke bombs, the first night of the curfew was lauded as a success.
Meanwhile, Boston is preparing for its own rally in solidarity with protesters in Baltimore. The rally, which is set to occur in front of Boston Police Department Headquarters, is being organized by Mass Action Against Police Brutality on Facebook. According to the event's Facebook page, over 2,500 people are expected to attend.