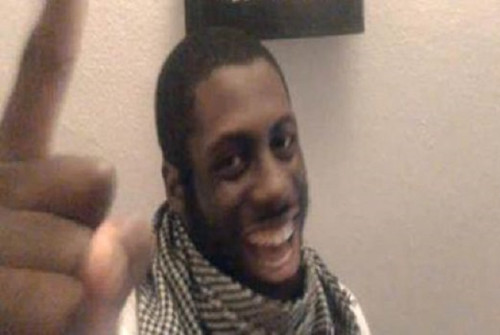 Three radical Muslims who set up so-called 'Shariah law zones' in parts of London have been banned from meeting hate preacher Anjem Choudary by a judge.
Converts to Islam Royal Barnes, 23, Jordan Horner, 20, and Ricardo McFarlane, 26, were also ordered to stop pestering pedestrians who they claimed were breaching strict religious laws on dress, booze and public displays of affection.
Horner has been a presence on streets in east London for years, handing out flyers which claim that assorted neighbourhoods are caliphates under fundamentalist Muslim rule.
Similar patrols in other parts of London were roundly condemned by Muslim leaders, including one Iman whose declamation of the patrols became a web hit after he pointed out the radicals' action was "unprecedented" in Islamic history.
Barnes hit the headlines earlier this week when a video emerged of him mocking the death of British Army drummer Lee Rigby, who was hacked to death by radical Muslims in an unprecedented daylight attack in Greenwich, London, last year.
Handing the orders to the trio, Judge Timothy Pontius called the orders "essential."
At the Old Bailey he said: "With the public interest in mind and the safety of individual members of the public in particular, it seems to me essential that these orders should be granted to run for that period of time."