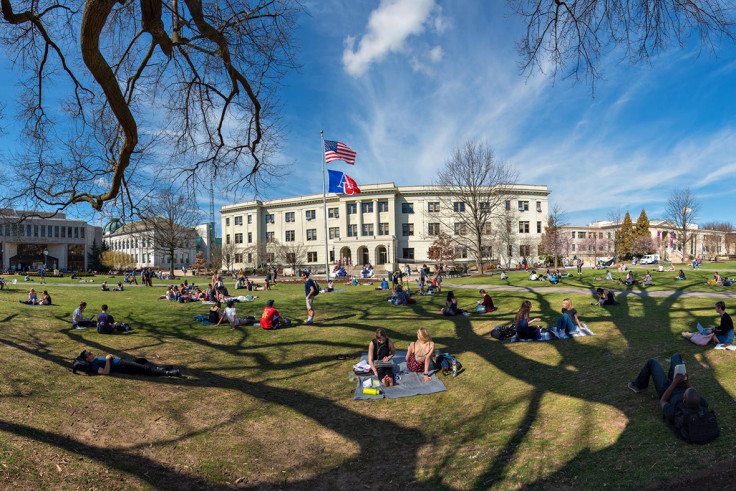 American University has launched an investigation after racist messages scrawled across bananas were strung up on fixtures around the campus.
The Washington DC university condemned what it described as a "crude and racially insensitive act of bigotry" on Monday (1 May) as pictures of the fruit hanging from string "in the shape of nooses" circulated on social media.
According to NBC News, one dangling banana bore the words "Harambe bait", a reference to the male western lowland gorilla who was killed after a boy fell into his enclosure at Cincinnati Zoo last year.
The letters "AKA" were also scribbled across another piece of fruit in what is believed to be a reference to the Alpha Kappa Alpha, a historically black college sorority, according to the New York Daily News.
It took place as Taylor Dumpson started her new position as the first black female president of American University Student Government (AUSG). Dumpson, who is a member of Alpha Kappa Alpha, issued a statement on the "disheartening and immensely frustrating" incident.
"As the first black woman AUSG president, I implore all of us to unite in solidarity with those impacted by this situation and we must remember that 'if there is no struggle, there is no progress' – Frederick Douglass," Dumpson said, referring to the 19th century abolitionist.
"This is not what I imagined my first letter to you all would be. In my first message to the student body, I would have wanted to talk about accountability, transparency, accessibility, and inclusivity," added Dumpson. "Now more than ever, we need to make sure that members of our community feel welcomed and above all, safe on this campus."
University president Dr Neil Kerwin also addressed the issue of racism in a statement. "Racially charged acts of bigotry are done to instill fear and inflict pain in our community – especially at stressful times, such as at the end of the term.
"I regret this happened, apologise to everyone offended, and state emphatically that this incident does not reflect what American University truly is.
"While this incident targeted AU's chapter of Alpha Kappa Alpha Sorority, Incorporated, and occurred after the first black woman and AKA member was sworn in as the Student Government president – our entire university community has been adversely affected by this cowardly, despicable act," added Kerwin.
The incident was met by anger and disbelief by social media users, who called on the educational establishment to take strong, effective action.
A campus community meeting is scheduled to take place in Kay Chapel today (2 May) at noon local time to discuss what happened.
The university is no stranger to racist incidents. In September 2016 there was widespread outrage and protests after a series of racist episodes, including one where Neah Gray, a black female student, said she was pelted by a banana.
That same evening, another black student found a rotten banana outside the door to her dormitory.