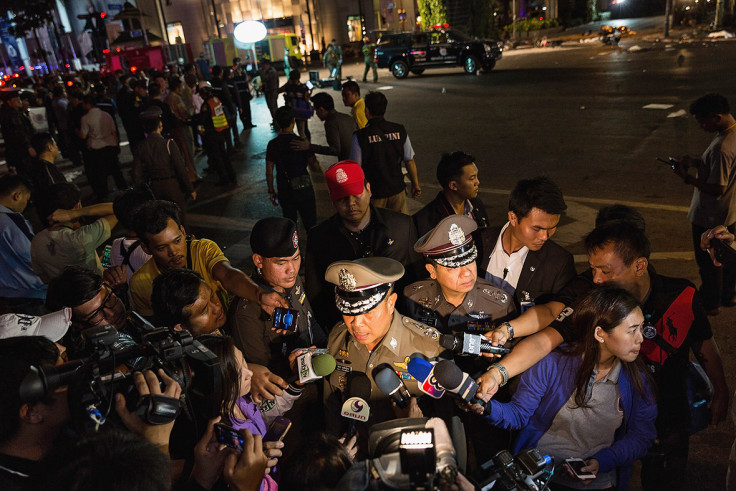 Update: Approximately 19 people have been confirmed dead in the blast, 123 injured.
The Thai defence minister has said the bomb blast at the Erawan Shrine in central Bangkok was aimed at the country's tourism industry as the death toll passed 19, including four foreigners.
Prawit Wongsuwan told Reuters that the perpetrators of the blast in the busy Ratchaprasong road junction "intended to destroy economy and tourism, because the incident occurred in the heart of the tourism district". He did not elaborate further on the identity of the attackers.
The Erawan Shrine, on a busy corner near a five-star hotel, is a Hindu shrine extremely popular with Chinese Buddhists, although many ordinary Thais also worship there. Police chief Somyot Poompanmoung confirmed that four foreigners from China and Philippines were among the 16 dead in the blast. At least 67 injured were taken to hospitals in the Thai capital. The device, which police said was carried on a motorbike, was a IED made of 5kg of TNT.
Britain's ambassador to Thailand, Mark Kent, has issued a new travel guidance to UK tourists, warning there is "high threat of terrorism" and is telling people to "monitor news reports and take extra care". A second device was found at the scene and deactivated.
Traffic around Ratchaprasong road intersection will be closed down until noon 18 August for evidence collection, police said. "We still don't know for sure who did this and why," Deputy Prime Minister Prawit Wongsuwon told reporters. "We are not sure if it is politically motivated, but they aim to harm our economy and we will hunt them down."
Car bombs have almost never happened in Bangkok – but have been used in southern Thailand, where a Muslim separatist insurgency has been fighting against the government for years.