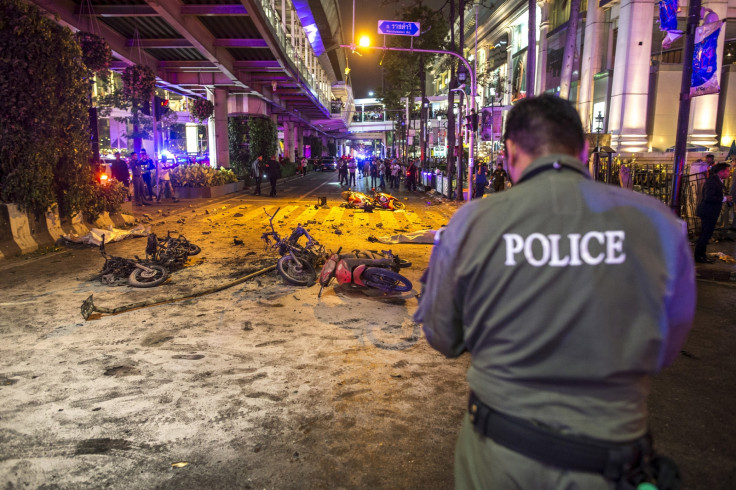 Police have deactivated two more IEDs after a deadly blast hit Bangkok, with fears that more devices are planted elsewhere in the city. Another explosive device was discovered and removed by the bomb disposal unit an hour after the first blast shortly after 7pm local time.
"We are now looking for another two to three bombs as we have found one suspicious object," national police chief Prawut Thawornsiri told Reuters. "There could be another explosion, so we have blocked off the crime scene and are asking bystanders to move back." Another device was also reportedly defused.
The pipe bomb that exploded inside the Erawan Shrine, popular with Buddhist and Hindu worshippers in the heart of tourist Bangkok had been planted, said authorities, with cruel precision. At least 22 people have been killed in the bomb explosion at the Erawan shrine, according to Reuters, with 123 wounded.
"All I can say now is there has been an explosion in central Bangkok involving a motorcycle bomb," deputy national police chief Aek Angsananond said. "Those who have planted this bomb are cruel. They aim to kill because everyone knows that at 7pm the shrine is crowded with Thais and foreigners. Planting a bomb there means they want to see a lot of dead people," he told the Bangkok Post.
One bystander, Alessandro Ursic, told the BBC: "When I arrived they had already cleared the bodies from the ground outside the Erawan shrine but there were and there are still pieces of human flesh strewn around the intersection; it's really graphic."
James Sales, a BBC reporter said: "I went into where the shrine is, where there were lots of bodies. I saw at least nine people unfortunately who looked like they had died and lots of Chinese tourists as well. I tried to administer CPR to one particular guy who was in his 40s... he was Chinese... but I doubt he made it."
Most of the injured are believed to be from China and Taiwan. There are reports that four foreigners are among the dead. The Bangkok Metropolitan Administration announced that all 438 city schools would be closed on Tuesday 17 August for safety reasons.
Police said it was too soon to determine the motive. The explosion was on the Ratchaprasong intersection, which has been the centre of political demonstrations. There has been a Muslim insurgency, but this has been mostly confined to the south of the country. The military took over ruling the country in May last year, removing an elected government following months of unrest.