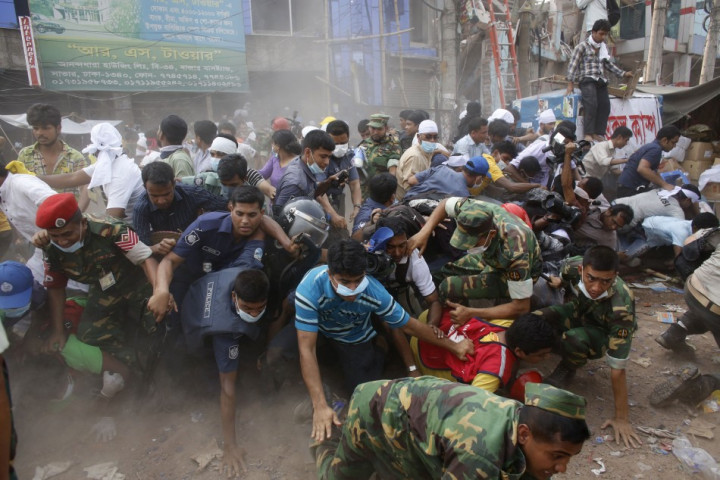 Fire crews stopped attempts to rescue survivors from the rubble of a collapsed clothing factory in Bangladesh after violence erupted between protesters and police.
Hundreds of workers are still unaccounted for in the rubble but rescuers had to halt their search for two hours as protests raged around them. The death toll from the collapse has passed 300.
According to police sources, 50 people were injured in clashes.
Police fired teargas at protesters, who were angry that rescuers were not working fast enough to find and identify bodies or survivors in the rubble of the Rana Plaza complex.
A mob massed on the fringe of the complex were also protesting against the unsafe conditions which led to the building's collapse and the heavy-handed tactics used by police to maintain order.
Majid Mia, who had been waiting for news of his missing daughter Minara, told the Guardian: "The police barred us from going near the spot and when we protested, starting hitting us with sticks.
"When some men pelted the police with stones, they fired teargas."
More than 2,200 people have been rescued. About 3,000 people were thought to be working in the building when it gave way.
Although a number of workers have been found alive beneath the debris and pulled to safety, others have been so severely injured that time is running out on getting them out of the wreckage.
"We want to go inside the building and find our people now. They will die if we don't find them soon," Shahinur Rahman, whose mother is missing, told CBS.
Retail giant Primark, which sold clothes made at Rana Plaza, has been urged to sign up to a new safety agreement in the wake of the disaster.
A group of NGOs have implored the budget retailer to sign the Bangladesh Fire and Safety Agreement, which would make independent building inspections of factories mandatory.
Within hours of the collapse, it emerged that a large crack in the building's wall was detected less than 24 hours earlier but the owner decided to keep the building open - even after engineers ordered its evacuation.
"Workers expressed concerns about the building and nothing was done," Liana Foxvog, of the International Labor Rights Forum (ILRF), told IBTimes UK.