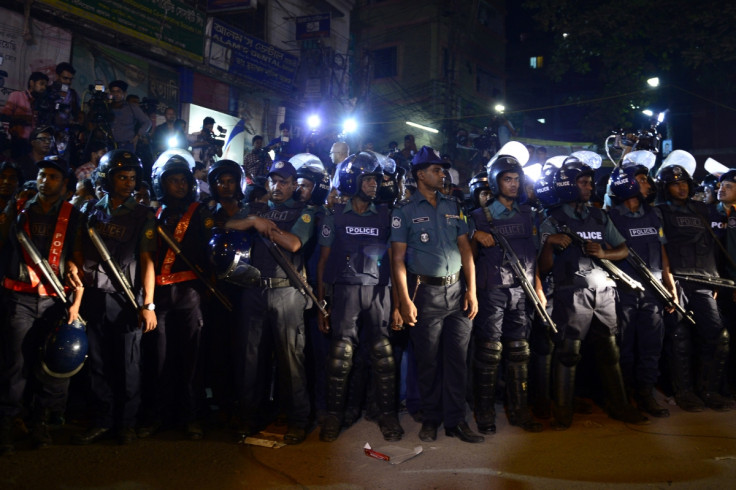 Security has been beefed up across Bangladesh after two opposition leaders Salauddin Quader Chowdhury and Ali Hasan Mohammed Mujahid were executed for their role in war crimes in 1971. The bodies of the two controversial figures have been buried.
Following the Supreme Court's earlier verdict upholding their death sentences, Chowdhury and Mujahid – both convicted for genocide and rape – were hanged on Sunday, 22 November in Dhaka's central jail. They were executed after Bangladesh's President Abdul Hamid rejected their clemency pleas.
Both the opposition leaders were reportedly hanged simultaneously and their bodies were handed over to their families. Paramilitary forces and police had been deployed across capital Dhaka and in the two villages to avert any untoward incident.
"All the police personnel have been asked to be on alert to prevent violence. We are prepared to provide the public with security. No-one will be spared if they tried to act violently," said AKM Shahidul Hoque, inspector general of police, just ahead of the execution. Chowdhury and Mujahid's family members were also present in jail when they were hanged at about 1am local time.
Earlier, rights groups including the Human Rights Watch (HRW) urged the Bangladeshi government to suspend the death sentence of the two leaders. "Justice and accountability for the terrible crimes committed during Bangladesh's 1971 war of independence are crucial, but trials need to meet international fair trial standards. Unfair trials can't provide real justice, especially when the death penalty is imposed," said Brad Adams, HRWQ's Asia director.
The duo, convicted of war crimes during the 1971 independence war against Pakistan, was given the death penalty by the International Crimes Tribunal. Chowdhury was elected MP six times, while Mujahid was a top leader of the Jamaat-e-Islami Party. The special crimes tribunal, a domestic court, has so far found 24 people of guilty of charges including genocide and rape during the war. Most of the convicts belong to Bangladesh's largest Islamist group which aided the Pakistani military in 1971.