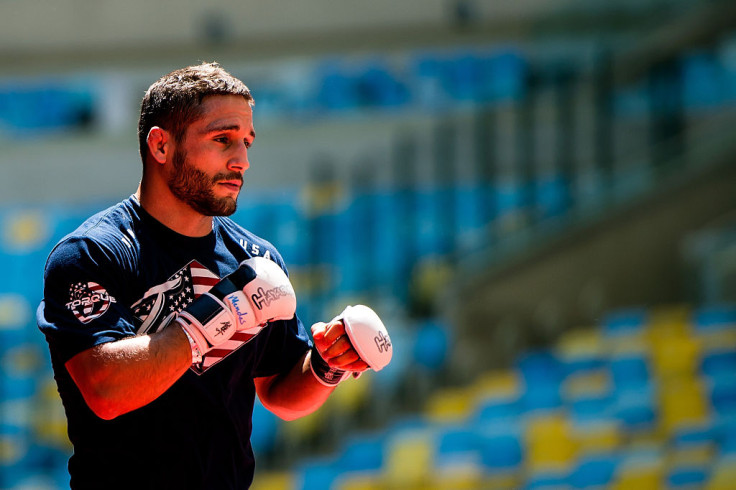 Banned Ultimate Fighting Championship (UFC) fighter Chad Mendes has been showcasing his passion for hunting in a video that shows him killing and cooking a giant elk.
After failing to challenge Conor McGregor for the featherweight title at UFC 189 in July 2015, the 31-year-old American lost to Frankie Edgar last December, which was his last fight. He was handed a two-year ban by the UFC's anti-doping programme after testing positive for a growth-hormone-releasing hexapeptide.
Mendes now seems to be showcasing his hunting skills on social media platforms. In one of the posts on his official Instagram page, he is seen posing alongside his hunting partner Eric Chesser in front of a dead elk. The same can also be seen in the video posted by the disgraced fighter's YouTube channel.
He launched a company in December 2015 named Finz & Feathers, which focuses mainly on hunting and fishing. The different services available can be found on his company's official website. Mendes explained his passion for fighting and hunting last month, when he spoke of the correlation between stepping inside the octagon and hunting.
"My drive to compete, my drive to push my body to the limit and try to test myself in the octagon and any type of sport that I've ever done is something that can translate to my hunting and fishing," Mendes told OutdoorHub, as quoted by the Daily Mail.
"Luckily for me, my job is to be in shape, so that definitely transfers over to making myself into an awesome hunter. I think the competition in the octagon is translatable to the competition when you're hunting, at least for me."
In one of his posts, he shows off what is believed to be a cooked elk on a plate. "Last night @eric_chesser killed an awesome bull and we feasted on the back straps!!! It doesn't get any fresher than that!! Haters can hate but we will always survive and we will ALWAYS be eating good!!"
Mendes has been posing in front of his kills and posting them on his official Instagram page. Some of the posts are shown below.