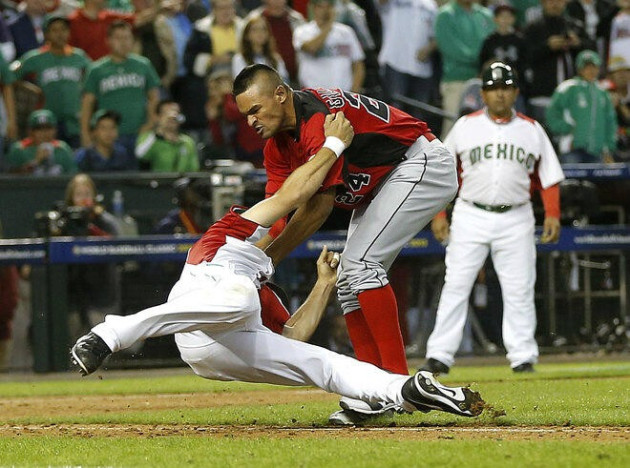 A baseball match between Mexico and Canada erupted into a mass brawl with a melee of players punching, kicking and pulling each other to the ground.
Canada were cruising to victory in the first round World Baseball Classic match with a score of 9-3, when pitcher Arnold Leon threw the ball at Canada's next batter, Rene Tosconi, hitting him on the back.
Players then poured in to the escalating fracas, fighting and grappling with each other.
The violence spread to the stands of the Chase Field in Phoenix, Arizona, with one spectator hitting a Canada coach in the face with a bottle and Canada shortstop Cale Lorg then furiously hurling the bottle back into the crowd.
Police came onto the field to restore order, and when the dust settled four Mexican and three Canadians had been ejected.
"We got hit for playing the game, and that happens, but at the same time, you got to stand up for yourself," said Canadian first baseman Justin Morneau. "You can't just get pushed around."
The violence flared when the Mexicans became frustrated that the Canadians were running up easy points to pad their victory margin and boost their chances of progressing to the next round.
"When you're playing professional baseball, things like this arise," Mexican manager Rick Renteria said. "According to what he's used to ... (Leon's) mind went somewhere else. ... He just lost it a little bit."
Canada went on to win 10-3, and will face the United States today (March 10).
The Classic is baseball's only international competition, with 16 teams taking part.