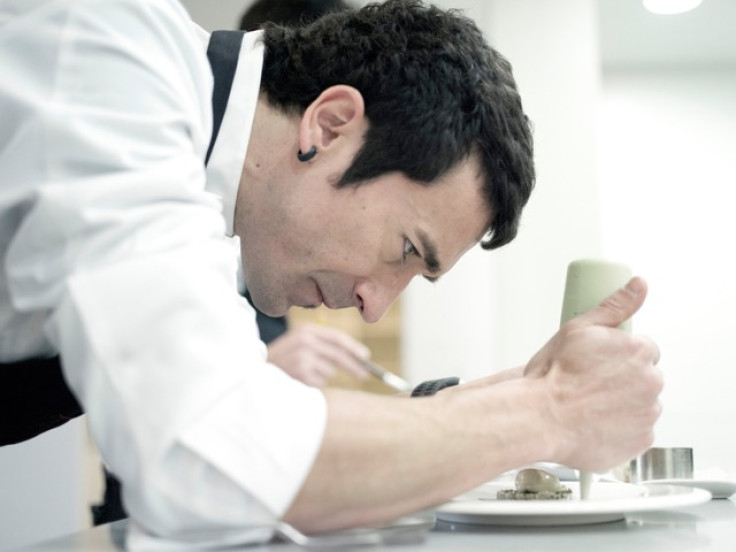 The views from Eneko Atxa's Azurmendi restaurant – a stunning monument to Basque cuisine, which sits atop 40 acres of mountain vineyards – look out over the rugged slopes, green fields and pine trees that form the landscape of the region.
Azurmendi – which means "mountain of bone" in the Basque language – appears to brush against the sky. From inside the glass, wood and chrome structure, the sweep of scenery becomes the backdrop to Atxa's dining experience.
Another perspective, however, can be glimpsed through three full-length windows flanked by glass double doors leading to the heart of the restaurant: its meticulous kitchen – a scene of gleaming white and stainless steel.
As diners arrive and service begins, Atxa's young staff stand quiet and still, straight-backed and waiting. When demands mount and the call-and-response of orders surge, the room becomes a whirl of white hats as the chefs duck and weave between different stations.
Atxa himself stands tall and relaxed, walking parallel to a counter that runs the length of the room. At intervals he leans over prepared dishes to give them a final inspection; sometimes he adds a final garnish.
If the world outside has nourished the ingredients of his food, and Basque cooking culture has formed the cornerstone of his culinary philosophy, Atxa has been hard at work in the kitchen – making it his own. The 40 members of what he calls his "professional family" have earned Azurmendi three Michelin stars and made it the 16th best restaurant in the world.
Located 15km outside Bilbao with eleven years in development, Azurmendi is but the beginning. Atxa now has his eye on world domination. "The Azurmendi army is ready to go," he said with a smile.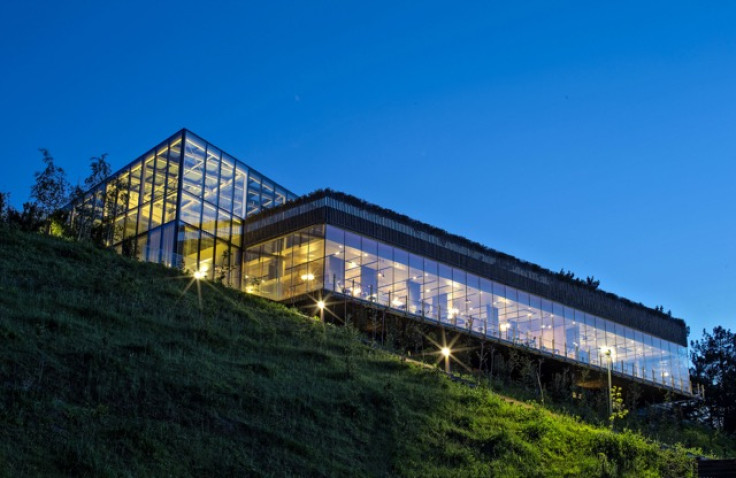 Lean with dark, aquiline features, and soon to turn 40, Atxa is wearing black skinny jeans, and chunky black earrings. He has also just opened a restaurant in London, Eneko at One Aldwych. He doesn't see why Basque cuisine shouldn't be on every street corner in every major city.
"Why can't we go to the most important cities in the world with our proposal like the Italians before, like the Japanese before?" He asks. "It is the question I had in my mind for a long time and I said 'OK – who will start, who will start to try?'"
The London restaurant has been well received and Atxa said further openings await. He added that he can staff them with his existing kitchen staff. "[They] have been here working with me in Azurmendi for a long time with, waiting for an opportunity in the world," he explained.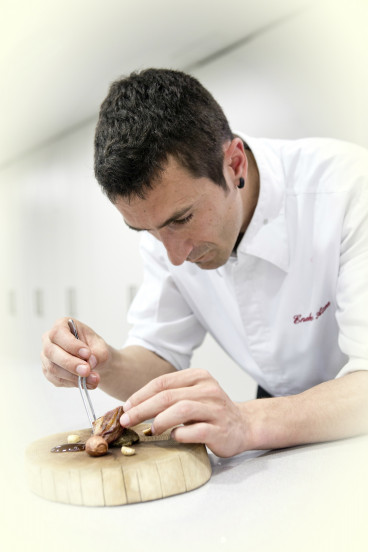 Fine dining in the Basque country is a family affair, literally, with generations working alongside each other in top-tier restaurants. Breaking with tradition, Atxa's kitchen is truly international, chefs from Korea and Japan rub shoulders with Latin Americans and Europeans. Atxa believes these students will be evangelists for Basque cuisine.
"They are like ambassadors because after time will pass when they back to Mexico, Korea and other places they will go back. They will always speak about the Basque gastronomy, about our project and for me it is like an investment," he said.
Since the mid-1970s, a new wave of Basque cuisine has produced a disproportionate number of Michelin stars and world-ranked restaurants for the region's two million inhabitants. For Atxa, the relaxed and naturally innovative style of cooking he grew up with was a starting point – but he has built on the cuisine, using techniques gleaned from Latin America and East Asia.
His award-winning innovation is on display in his menu and in his presentation. Diners are welcomed through three rooms adjoining the restaurant. Each room is an "act" in the dining experience. Before sitting at the table, guests eat items crafted to resemble their surroundings; leaves crafted with mushroom and béchamel, cotton locks made with sugar and avocado that dissolve on the tongue like candyfloss.
Despite the constant drive to change, Atxa's cooking is not the stuff of deconstruction and molecular gastronomy. He experiments with ingredients but his 15-course taster menu is grounded in traditional produce.
More decadent courses – 'Castañetas' pork (glazed pork cheeks with Etxano cheese) are leavened by delicate and refreshing interludes: local tomatoes, diced, with anchovies and a tomato sorbet. The effect of the constantly shifting flavours leaves diners savouring the food long after the dish has gone.
Atxa wants to take his food to the world but it is his ever-changing cooking he wants to export not a brand or himself. "Honestly, I started to cook like an explorer but day by day I discovered that I could learn different things. Every day we have to change small things – that's my philosophy and at the end of the year you have changed 365 small things," he says. "One important thing, now, and I hate it, is [chefs] are like a rock stars. You don't have to be a rock star. You have to use your fame to help other people you are associated with."