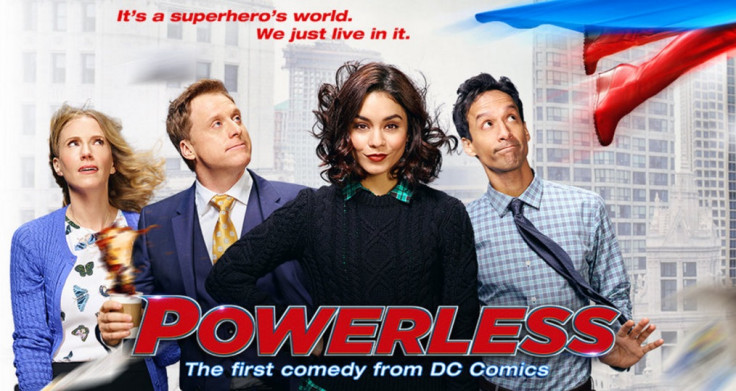 In February, NBC is going for a totally different ball game with its new superhero show Powerless. Instead of focussing on the super-hero world, the plot revolves around average people who have to cope with "collateral damage of super heroes and super villains."
One such saviour, who might have major stakes in this world is none other than Batman aka Bruce Wayne.
The Batman connection was recently added to the workplace comedy show, which has undergone a whole lot of change in terms of its setting.
Earlier, the cast led by Vanessa Hudgens' Emily Locke was supposed to play employees at an insurance company called Retcon. But that does not seem to be the setting anymore, as per the new plot synopsis.
Wayne Security, a subsidiary of Wayne Enterprises takes centre-stage in the DC office comedy now with Hudgens' character playing the organisation's "Director of Research & Development". Similarly other cast members take up new roles in Wayne Security, which "specializes in products that make defenceless bystanders feel a little safer."
Read the new synopsis for Powerless below:
For DC Comic fans, the name Wayne should strike a chord and considering the characters now work directly for him, there are high chances that Batman might be one of the iconic superheroes to make an appearance on Powerless. Apart from the caped crusader, other saviours such as Wonder Woman and Green Lantern are also expected to be referenced or make cameos.
With this latest change in the synopsis, Powerless comes right under DC's shared superhero Universe that already boasts characters like Superman, Flash and the Arrow. The NBC sitcom also stars Alan Tudyk (from Rogue One) as Del, the company owner's son (or in other words related to Mr Wayne); Danny Pudi as Emily's confidante Teddy, Christina Kirk in the role of superhero fan Jackie, and comedian Ron Funches.
Powerless will premiere on Thursday 2 February at 8:30 pm EST on NBC.