Looks like the Batman v Superman trailer is all set and ready for release.
Composer Junkie XL recently hinted that he is working on the score for the Batman v Superman trailer, along with the film's composer Hans Zimmer.
On 4 April, JXL used his Twitter account to reveal he had spent the day mixing the eagerly-awaited trailer, and called it "awesome".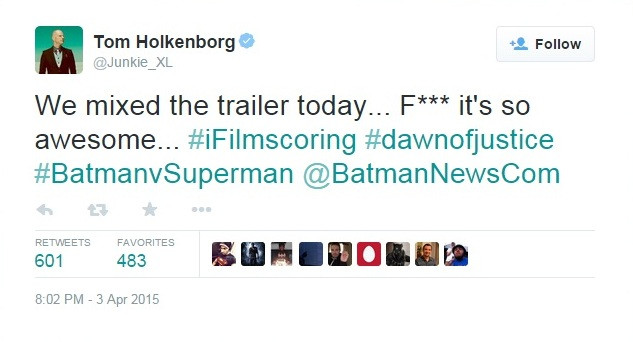 Earlier this week, Junkie XL posted a tweet with an image of a TV screen in his studio, brandishing a dark Warner Bros logo. This dark logo has often accompanied Dark Knight and Man of Steel trailers, so he was clearly playing the Batman v Superman trailer while working on the score.
It has begun! #silent #iFilmscoring pic.twitter.com/NLswZSzmR2

— Tom Holkenborg (@Junkie_XL) March 31, 2015
As per latest reports, the Batman v Superman: Dawn of Justice trailer will make its theatrical debut with Mad Max: Fury Road. Junkie XL's tweet further confirmed the news.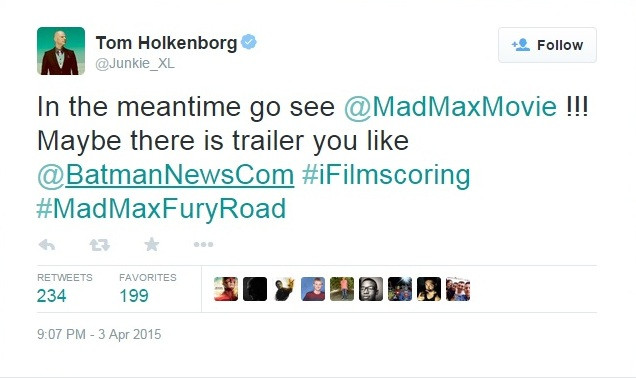 Mad Max: Fury Road opens in theatres on 15 May. Even though Warner Bros. has not yet confirmed that the trailer will surface online on the same day, it is quite likely that the studio will release it on the web around the same time.
Meanwhile, earlier reports around an alleged leaked trailer of the film revealed a description of how it plays out.
Reportedly, the Batman v Superman leaked trailer was allegedly posted on the /TV/ board of 4Chan earlier this year and featured Jason Momoa's Aquaman, Ezra Miller's the Flash and Ray Fisher's Cyborg.
"For those who didn't see the BvS trailer on /tv/ last night; YOU MISSED A LOT. The new BvS trailer was a rehash of the last one [description below] with Batman narrating the entire time however the new one had some snippets of Aquaman, Flash and Cyborg. Only Aquaman was in costume though, Ezra Miller and Cyborg are just wearing civilian clothes," stated a Comic Central City report.
Description of the alleged leaked trailer
The trailer opens to the Man of Steel ending during the chaos and destruction in Metropolis as Ben Affleck narrates something along the lines of, "…the world has changed with the arrival of the Kryptonians."
Cut to Affleck in his Batsuit and he asks whether Superman is here to save us… Or destroy us? Before revealing… "I'm going to find out"
At which point… we cut to a shot of the Batman v Superman logo.
Batman v Superman: Dawn of Justice is slated for release on 25 March, 2016.