When The Hunger Games star Jena Malone was spotted on the set of Batman v Superman: Dawn Of Justice last year, comic-book fans immediately began speculating as to which role she could be playing if she were actually starring in the film. People contemplated whether she'd be portraying a villain? A hero? A love interest?
Eventually, everyone settled on the idea that the 30-year-old was to star as a female version of Robin, Batman's crime-fighting sidekick. However, a recent report by Latino Review explains that whilst Malone will be playing an ally of The Dark Knight, it won't be the one they initially thought.
According to the publication, their sources have confirmed that the Stepmom actress will be featuring in the much-anticipated DC movie, but as Barbara Gordon, daughter of police commissioner Jim Gordon (famously played by Gary Oldman in the Christopher Nolan instalments).
The character stems way back in the comics, where as Head of Gotham City Public Library, Barbara Gordon was first seen as vigilante Batgirl. However, she later adopts the alter-ego Oracle after she is paralysed when the Joker shoots her during Alan Moore's classic The Killing Joke storyline.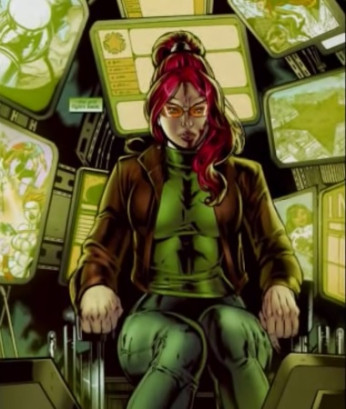 Confined to a wheelchair and unable to fight physically, she uses computers and technology to become a hacking genius and subsequently a source of information, providing insider knowledge to several of her fellow superheroes to aid them in the fight against their enemies.
Throughout her comic book life, Oracle has been a part of both Justice League and Suicide Squad, and seeing as Warner Bros are developing movies around both of these groups, and seem to be fleshing out their own version of the successful Marvel-technique of connecting all of their feature films together, her introduction in Batman v Superman would make perfect sense.
As for Malone's involvement; she has worked with director Zack Snyder before when she starred in 2011's Sucker Punch and is well versed with hugely popular series after her stint as Johanna Mason in Suzanne Collins' Hunger Games saga alongside the likes of Jennifer Lawrence and Josh Hutcherson, so she seems a good fit for a part inside the DC Extended Universe.
But whichever part she may be playing, it is seeming more and more likely that she will in fact feature - and that her role is worthy enough of its huge shroud of mystery. Back in October 2014, it was reported that an extra on the upcoming film was fined $5m (£3.2m) for disclosing that Malone was going to be playing Robin.
Batman v Superman: Dawn Of Justice is scheduled to hit UK cinemas on the 25 March 2016. It will feature a huge cast including Henry Cavill, Ben Affleck, Amy Adams, Jeremy Irons, Laurence Fishburne, Gal Gadot, Jesse Eisenberg, and Ezra Miller.