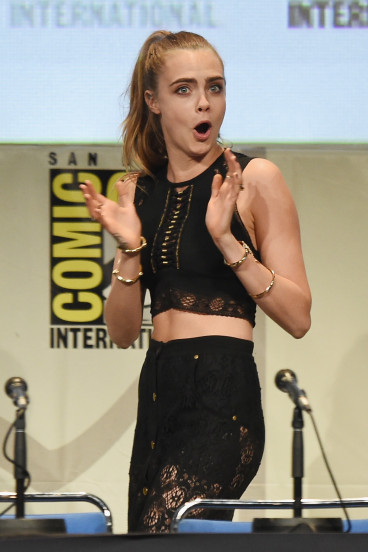 Cara Delevingne has spoken out about that awkward Good Day Sacramento interview where the trio of breakfast TV show hosts accused of her of seeming "in a mood" live on air.
Taking to her personal Twitter account on Wednesday (29 July), the 22-year-old simply quipped: "Some people just don't understand sarcasm or the British sense of humour," which was an obvious reference to the frosty exchange she shared with the anchors just a day previous.
The model-turned-actress was appearing on the early morning show to promote her new film Paper Towns, but the interview ended up being cut short when the presenters mistook her sarcastic answers for rudeness.
The segment got off to a bad start when one interviewer referred to her as "Carla," but after a series of strangedly-worded questions, the hosts accused of her not being excited about the film and "seeming irritated".
It quickly escalated into the presenters telling Delevingne that she should "go take a little nap and maybe get a Red Bull" as the actress mumbled that they had taken things "too far". After that the video stream between the two studios was abruptly disconnected.
Scrubs actor Zach Braff felt an elaboration on Delevingne's comment was needed, adding: "Or how it's condescending to ask an actress if she's read the book." While musician Boy George replied to her tweet with a smiley-faced emoji, assuring her that he understands both sarcasm and English jokes.
Game Of Thrones star Maisie Williams also voiced her opinion which evidently had her siding with Delevingne as she wrote: "Good for you. Ask a lazy question, get a lazy answer." Days Of Our Lives' actress Kate Mansi also joined in, posting a link to the interview to 45,000 followers accompanied with the statement: "I stand by Cara. Who wants to weigh in?"
Not everyone was so supportive in their responses however. Co-star of Mansi, actress Chrishell Stause took to her own social media account to voice that not only did she "agree with the anchors" but she believed that Delevingne should learn to be more "grateful" for her success. When one of her followers suggested that the British-born star get herself some "media training" before she conducts anymore major interviews, Stause replied: "Or let her be herself and hand her the rope."
Stause has since deleted her second tweet but has tried to justify what she meant by it, writing: "I made a comment today that suggested being rude/ungrateful is career suicide. To those wanting to take that out of context #byefelicia."
Paper Towns will hit UK cinemas on 17 August, and after its release, Delevingne will next be seen in Peter Pan reimagining Pan, alongside Hugh Jackman and Rooney Mara. In 2016, she will portray supervillain Enchantress, in upcoming comic-book movie Suicide Squad. The film will have her starring on-screen with Will Smith, Jai Courtney, Margot Robbie and Jared Leto.