The second Batman v Superman: Dawn Of Justice trailer, which was unveiled at the San Diego Comic-Con in early July, revealed Robin's costume in the Bat-cave sparking off rumours and speculations around the character's secret role in the film.
Since the trailer shows a heavily graffitied costume with the words 'Joke's on you Batman' scribbled on it, it's pretty clear that Robin was killed by the Joker at some point. Several theories suggest that the scene involving Jared Leto's Joker killing Robin will be shown as a flashback sequence in the film.
A latest report by Hollywood scoopster Umberto Gonzalez further fuels this rumour. According to the report, a scene with Robin and The Joker has been filmed, and the dead Robin might be played by director Zack Snyder's son - Eli Snyder.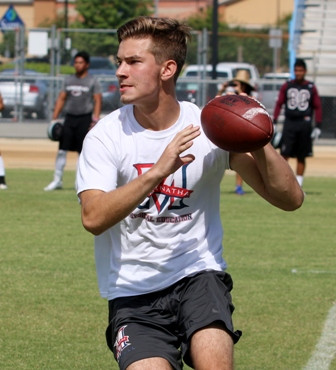 "I been hearing rumblings for months, it's never been reported, yet it makes a lot of sense. Zack Snyder's hot shot quarterback son Eli is supposedly playing the dead Robin that was filmed with Jared Leto." (via Heroic Hollywood)
Apparently, Eli Snyder is not new to cameos in his father's films. He played the young Leonidas in 300 and young Rorschach in The Watchmen.
The report added: "Due to the secretive nature surrounding the film, it's been hard to confirm this so consider this a hot rumour for now."
Snyder Jr is now a 6'0 foot tall Varsity athlete, so would certainly be a good physical fit for the role of Robin, states a ComicBookMovie report.
Batman v Superman: Dawn Of Justice is slated to release on 25 March 2016.
Update: Batman v Superman: Dawn Of Justice still photographer Clay Enos teases the Robin casting in his latest tweet.
Enos tweeted a black and white photograph of Eli Snyder posing with his father and the caption reads: "Boy Wonder?" [as in Robin the Boy Wonder]
#Repost @cruelfilms ・・・ Boy wonder? http://t.co/cRWWJ9TuMl pic.twitter.com/9SeeAq9SLx

— Clay Enos (@ClayEnos) July 23, 2015