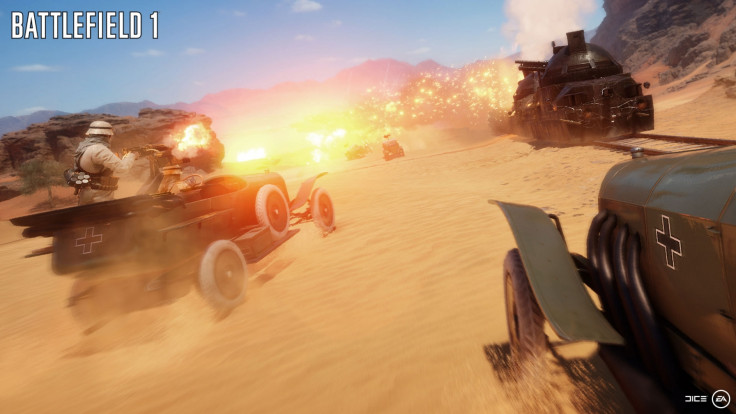 Publisher EA has announced the public beta for its upcoming historical FPS, set in the trenches of World War 1, will kick off on 31 August for PlayStation 4, Xbox One and PC players. The open beta will include the Sinai Desert map and two popular modes to choose from — Conquest (64 players) and Rush (24 players).
"From infantry skirmishes in the narrow streets of the village of Bir el Mazar to dogfights above the majestic cliffs, you'll need to make tactical use of the dunes as you engage in explosive battles," Battlefield global lead community manager Dan Mitre wrote in a blog post. "When all hope is lost, reinforcements will arrive in the shape of a powerful Behemoth: a deadly Armored Train charging through the desert sands."
Set in a "scorching new battlefield located just East of El-Jifar," the new map will feature three new Elite Classes — Sentry, Flame Trooper and Tank Hunter — as well as rideable war horses.
Anxious fans eager to play the game a little earlier can register as a Battlefield Insider by 21 August to receive early access. The company has not specified how long the beta will run for.
EA DICE has also released a Battlefield's brand new, action-packed Gamescom trailer that takes place in the Sinai Desert map, giving players a glimpse of how the game will play including combat on horseback, boots-on-the-ground-style gameplay, aerial fights and the power of its new war train.
The footage ends with what appears to be a teaser for Battlefield 1's campaign mode where a character says, "The legend of Lawrence of Arabia dies tonight."
Released on 15 August, the trailer has already garnered nearly 1.2 million views.
In May, lead designer Daniel Berlin hinted the game's single-player campaign mode could follow multiple different characters and "focus on different stories and different personalities across the world." The Bedouin woman warrior from the announcement trailer and the new Gamescom trailer will be one of the playable characters.
"When we set out on this game, we wanted to depict not just the common view of what the war was like," Berlin told GamesBeat. "We wanted to challenge some preconceptions. We want to delve into some of the unknowns of World War One. Maybe people don't know that this person fought or that person fought, that this army was involved. We're stretching out and bringing all those stories into the game."
Battlefield 1 is slated for release on 21 October for PS4, Xbox One and PC.