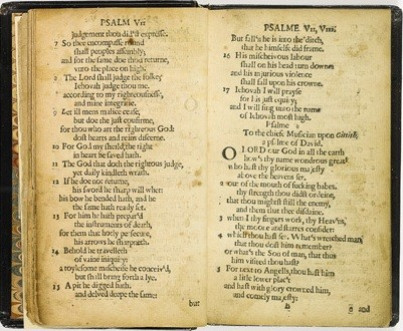 The first book ever to be printed in the US could fetch up to $30m (£19.7m) when it is sold at auction later this year for the first time since 1947.
The Whole Booke of Psalmes - more widely known as The Bay Psalm Book - will be sold by Sotheby's in New York in November.
It was produced in the Massachusetts Bay Colony in 1640 by the Congregationalist Puritans, who had left the UK in search of religious freedom 20 years earlier.
The book contains the English translation of Hebrew psalms. The poems were translated by leading scholars and ministers from the New England colony, including John Cotton, Richard Mather and John Eliot.
Its title page reads: "Whereunto is prefixed a discourse declaring not only the lawfullnes, but also the necessity of the heavenly Ordinance of singing Scripture Psalmes in the Churches of God."
The Bay Psalm Book was printed on a press sent with paper and type from England by locksmith Stephen Daye.
A total of 1,700 copies were made but just 11 remain intact today. The copy being sold is from the collection of the Old South Church in Boston.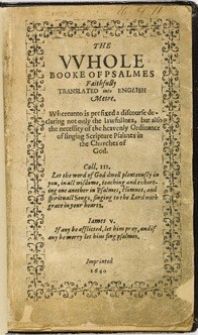 Proceeds from the sale will go to the church's mission and ministry in the Greater Boston area. It last sold at auction over 60 years ago for a record-breaking $151,000.
David Redden, worldwide chairman of Sotheby's Books Department, said: "The Bay Psalm Book was not only the first book printed in America, and the first book written in America.
"This little book of 1640 was precursor to Lexington and Concord, and, ultimately, to American political independence. With it, New England declared its independence from the Church of England.
"The Bay Psalm Book is a mythical rarity. Unseen on the marketplace for more than two generations, it has become too rare to collect. Yet here it is today, this modest little book printed in the American wilderness but embodying the values that created our nation: political freedom and religious liberty."
Nancy Taylor, senior minister at the Old South Church, added: "With the sale of this extraordinary asset we intend to strengthen our ministries of mercy, justice, and beauty. We hope to increase our grants and outreach programs, as well as maintain our National Historic Landmark building - open and free to the public, seven days a week - in excellent repair."