FRANKFURT, Germany — Shares in German farm chemicals, materials and drug company Bayer have plunged in the wake of a U.S. court verdict against Monsanto, which Bayer has acquired.
Shares of Leverkusen-based Bayer fell 11 percent Monday in morning trading in Europe to 83.09 euros per share.
A jury in U.S. federal court in California delivered a $289 million verdict Friday on behalf of a former school groundskeeper, Dewayne Johnson, who said that exposure to Monsanto's Roundup weed killer caused his non-Hodgkin's lymphoma, a form of cancer. Monsanto said government agencies and hundreds of studies have concluded Roundup is safe.
Johnson, 46, alleges that heavy contact with the herbicide caused his non-Hodgkin's lymphoma. The state Superior Court jury agreed that Roundup contributed to Johnson's cancer and Monsanto should have provided a label warning of the potential health hazard.
Johnson thanked jurors "from the bottom of my heart" for their work, along with his lawyers and his family.
His was the first case filed by a cancer patient against the agribusiness giant to reach trial. It was expedited because court filings indicated that Johnson was dying. His victory may set the precedent for many others.
"A unanimous jury in San Francisco has told Monsanto: 'Enough. You did something wrong and now you have to pay,'" said Brent Wisner, Johnson's lead trial lawyer. "There's 4,000 other cases filed around the United States and there are countless thousand other people out there who are suffering from cancer because Monsanto didn't give them a choice ... We now have a way forward."
'The simple fact is he is going to die'
Monsanto spokesman Scott Partridge said the company will appeal. Partridge said scientific studies and two government agencies have concluded that Roundup does not cause cancer.
"We are sympathetic to Mr. Johnson and his family," Partridge said. "We will appeal this decision and continue to vigorously defend this product, which has a 40-year history of safe use and continues to be a vital, effective, and safe tool for farmers and others."
Johnson used Roundup and a similar product, Ranger Pro, as a pest control manager at a San Francisco Bay Area school district, his lawyers said. He sprayed large quantities from a 50-gallon tank attached to a truck, and during gusty winds, the product would cover his face, said Brent Wisner, one of his attorneys.
Once, when a hose broke, the weed killer soaked his entire body.
Johnson read the label and even contacted the company after developing a rash but was never warned it could cause cancer, Wisner said. He was diagnosed with non-Hodgkin's lymphoma in 2014.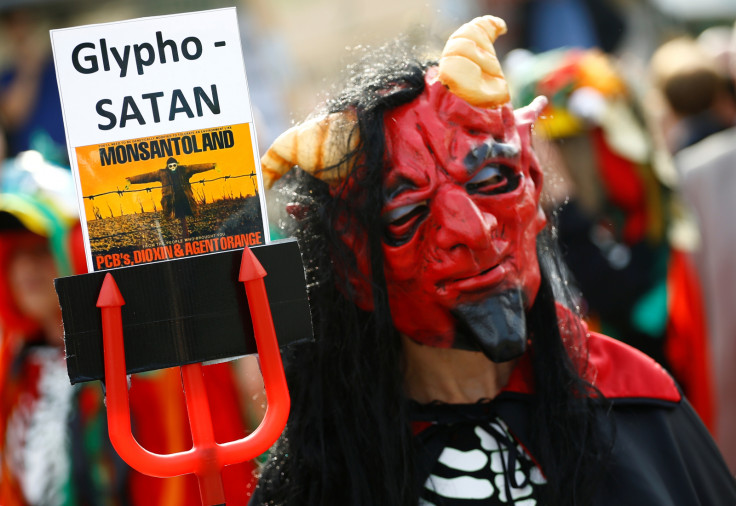 "The simple fact is he is going to die. It's just a matter of time," Wisner told the jury in his opening statement last month.
The U.S. Environmental Protection Agency says Roundup's active ingredient is safe for people when used in accordance with label directions.
However, the France-based International Agency for Research on Cancer, which is part of the World Health Organization, classified it as a "probable human carcinogen" in 2015. California added glyphosate to its list of chemicals known to cause cancer.
Bayer completed its takeover of Monsanto on June 7. It says it will no longer use the Monsanto name.