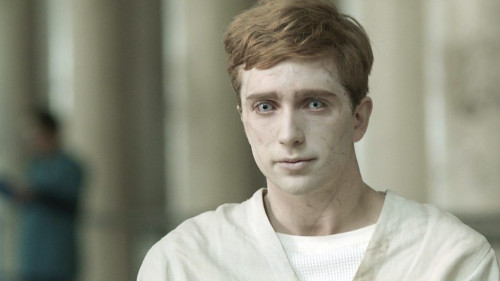 The BBC has outraged mourners by shooting scenes for a zombie drama in a cemetery while grieving relatives looked on.
Witnesses blasted the BBC for being insensitive by filming scenes for upcoming episodes of the BBC Three drama In The Flesh at Glossop Cemetery, Derbyshire, while they tended their dead relatives' graves.
Bosses at High Peak Borough Council received dozens of complaints this week from people arriving to lay flowers and pay their respects at graves – only to have to dodge filming trucks and lighting rigs.
One local, Christine Allen, who was visiting her mother's grave last weekend, said: "When I got there I found the place floodlit. All the noise coming from the generator on the other side of the wall made it sound like a circus. But then we found out what was going on.
"It was hurtful for people who had recently lost someone, there was no dignity. No one should make a film about zombies near a cemetery. It's terrible!"
Another widower, who asked not to be named, described the decision to film the scenes in the cemetery as "bad taste".
"I was surprised to see the crew and the vans here, but that was nothing compared to the shock I felt when I found out they were making a programme about zombies. It just seems like bad taste, but I suppose the council will be getting well paid, so anyone who doesn't like it can lump it."
Relatives say they were not warned the filming would be taking place. But the local council said notices had been placed around the area informing people of what was happening and a member of BBC staff had been on hand at the cemetery gates to tell people about the filming and offer reassurances.
"The filming itself has been confined to a small area in a quiet part of the cemetery where the graves are mainly from the Victorian period and the council worked with the BBC to ensure no paths were closed off."
The BBC issues an apology to offended locals. A BBC Three spokesman said: "We recognise the sensitivities surrounding filming in this location and have done our utmost to inform local residents and keep access to the cemetery open.
"Unfortunately due to filming considerations access on one occasion was limited which we regret and we apologise for any offence this may have caused. We will make sure this does not happen again."
In The Flesh tells the story of a zombie apocalypse, and focuses on a re-animated teenager Kieren Walker as he returns to the local community.