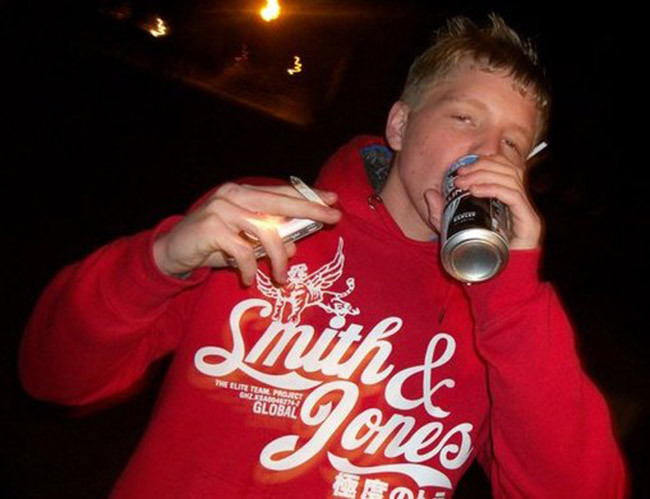 A man branded a 'beast' after being caught on video having sex with his girlfriend's dog has escaped jail.
Wayne Bryson, 19, of Harvey's Lane, Louth, pleaded guilty to performing an act of sexual penetration with a Staffordshire Bull Terrier on 17 January.
Skegness Magistrates Court heard the grim details of what was described as "30 seconds of madness" during the trial on 5 March.
Bryson's ex-girlfriend Amber Hickling, 18, was left sickened when she found the footage on his phone while searching for pictures of their child.
She handed the phone into police and Bryson was arrested.
"When I found the video I felt sick," she said. "I was shaking and crying. I just couldn't believe it.
"I would have been surprised to catch him cheating, but to catch him shagging my dog was wrong on a different level.
"He could have been doing it all along and I only caught him because he taped it. I felt dirty just knowing he touched me after he could do something like that with my dog.
"While I was worrying about other women I should have been worrying about my pets. When I heard the sentence, I was very upset. I think he should have got a much harsher sentence.
"He should be locked up. If it had been a person he would be, but because it's a dog that couldn't even defend itself he's free. I still feel sick about it and I don't think I'll ever get over it.
"I have to live with what he's done to Rudy and he is free to do it again with another animal."
Defence lawyer Gordon Holt described the crime as "stupid and disgusting".
A man in the public gallery shouted as he was sentenced: "He is a beast, a dog has got no voice."
Factory worker Bryson was handed a four-month prison sentence suspended for two years. He was told he must never be alone with an animal again and was put on the Sex Offenders' Register for seven years.
He has since been disowned by his family and is no longer with his girlfriend.