David Beckham's football career can never be described as anything but being bathed with glitz, elegance and clinical corporate swagger. So the manner of the announcement of his retirement from the sport, after 20 years at the pinnacle of the game was unusually understated and uncoordinated.
After the written media pounced on the story and Twitter customarily exploded into a million pieces, former-teammate come retirement interview expert Gary Neville conducted a television interview with Beckham in a Paris hotel room. No fireworks, for those asking.
Indeed, the furore surrounding the announcement is in stark contrast to the remainder of Beckham's career which as it has progressed has become an exercise in stage management rather than sporting expertise.
His 10-year professional career at Manchester United is among his purist spells in the game. Before financial burden played a role in his career, Beckham was at his most brilliant at Old Trafford. Roaming between central midfield and wide on the right, he was as mobile during his early days at United as any English footballer of the same era.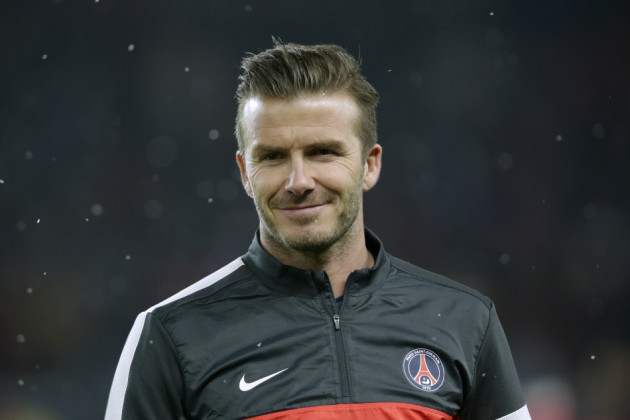 Although his role as set-piece expert eventually came to the fore, for England, particularly during his five-year spell as captain, he remained the fulcrum of the golden generation. Aldo Duscher's scything challenge on the then skipper in 2002, breaking his second metatarsal, sparked a national day of mourning and weeks of frantic praying before the summer's World Cup. Who knows how social media would have coped.
If the reason for Beckham's departure from Old Trafford was down to his profile outgrowing the club, then his move to Real Madrid saw him become a small fish in a big pond with Ballon d'Or winners Zinedine Zidane, Luis Figo and Ronaldo making up the Galacticos at the Bernabeu.
The four year spell in the Spanish capital highlighted his technical ability yet exposed the limited footballer he had become. Therefore, the manner in which he broke back into Fabio Capello's team with his tenacity and workmanlike spirit, to lead Madrid to the league title in his final season represents perhaps his greatest club achievement.
There remains little doubt Beckham's move to the MLS with Los Angeles Galaxy was a premature move into football's rest home, with wider objectives, not least leading a surge of European football's has-beens state side, was the primary motive. The Yankee Dollar not far away either.
Two spells with AC Milan represented an opportunity to add a much-needed competitiveness to his sporting life, lost in the limited American football calendar, and also led to a return to United, where he bared the green and gold, albeit ignorantly.
His club swansong came with Paris Saint Germain, where if Zlatan Ibrahimovic was the Happy Monday's Shaun Rider, and Ezequiel Lavezzi brother Paul, then Beckham was Bez, limited contribution based purely on sentimentality. His charitable donation almost worked to justify the fanfare.
His international career of 115 caps will always polarise opinion. Utter brilliance in Lens, Manchester and Sapporo; overwhelming tragedy in Saint Etienne, Shizuoka and Lisbon; Beckham's England tenure assured British sport a biannual summer soap opera. Even if controversy haunted every significant moment of his international career, he defied the preconception of England players in the modern era; heart and desire accompanied every stride.
The numerous PR exercises suggests Beckham has always been a sportsman for the people, and the manner in which his career has transpired satisfies his detractors, critics, admirers and adulators. He gave fairweather football fans a reason, but the game' traditonalists fear and loathing.
A father, a legend, gracious, vein, greedy, captain, committed, too right-footed. Beckham's wide-spanning career means he is all things to all people. Bemoan his exit, hail his impact.