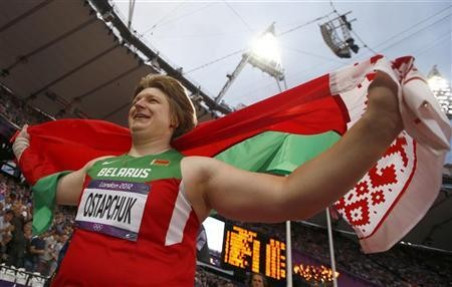 Just hours after the bombastic closing ceremony of the London 2012 Olympic Games, Belarusian gold medal winner Nadzeya Ostapchuk, 31, became the first athlete to be stripped of a medal for failing a drug test.
Ostapchuk, who won the gold in women's shot put, tested positive for anabolic agent methenolone and had to hand back her medal.
Valerie Adams of New Zealand took the gold instead.
"I am speechless with this news. It is taking me some time to take this in," Adams told New Zealand's TVNZ.
"It is huge and I am absolutely thrilled. It is also encouraging for those athletes like me who are proud to compete cleanly that the system works and doping cheats are caught," she said.
The silver went to Russia's Evgeniia Kolodko, while Gong Lijiao of China was awarded the bronze.
Ostapchuk, who was fourth in Athens 2004 and third in Beijing 2008, won the gold with a 21.36m throw - 0.66m on Adams.
She failed both urine sample tests before and after the competition.
"Both samples indicated the presence of methenolone, which is classified as anabolic agent under the 2012 prohibited list," said the International Olympic Committee (IOC).
During the Games, Syrian hurdler Ghfran Almouhama, Russian track cyclist Victoria Baranova and Italian walk racer Alex Schwazer were all sent home for doping.
Ostapchuk was the only one to have won a medal.