Hero bus driver Paul Doyle previously praised for coming to aid of stricken pensioner https://t.co/yCskXMcwC5 pic.twitter.com/9W5uROw5wp

— Belfast Live (@BelfastLive) November 11, 2015
A bus driver has become an internet hero after passengers witnessed his act of kindness towards a homeless man he passed every day on his bus route. Paul Doyle, who drives the number 10H Translink bus in Belfast city centre, pulled his bus over and gave the man, who was drenched and sleeping rough in just a short-sleeved T-shirt, a warm winter coat and a bag of food.
After witnessing his generosity, passenger Anna Marie McDaniel praised the driver online. The student, who studies at St Mary's University College in Belfast, said in her post: "I get the same bus every Tuesday and there is always a homeless man that we pass. Today he was standing in the pouring rain, drenched to the skin in just a short sleeved t-shirt. My heart went out to him. The bus man driving the 10H that I was on stopped the bus beside the man and called him over. He then hands him a big plastic bag and told him that he was hoping to see him today - he'd bought him a winter coat.
"The man refused to take the bag, but the driver was adamant that the man take it as he had gone out and bought it for him. I have never seen a smile like the one on the homeless man's face." She added: "Couldn't believe how kind the bus driver was, such a thoughtful act. A little bit of kindness really can go a long way."
The post has been liked more than 62,000 times as the story went viral and Mr Doyle, who has been a bus driver for 20 years, was hailed an 'amazing' man by hundreds of people who took to social media to commend him for his kind-hearted gesture.
Reta Olphert wrote: "A lovely man, we could take from this act of kindness and do something ourself (sic) and do likewise. If we did our world would be a better place for all." Barbara Gould added: "How wonderful is this man to do that for the homeless man. You have my full respect."
Speaking today, Michael Dornan, Metro driver representative for Unite, said Mr Doyle was a 'very laid back, reserved and quiet person' and he had been overwhelmed by the public response.
He told MailOnline: "He's a bit embarrassed about all this fame that has come this way. He's done it because of his sympathy towards this young lad who he had seen every day and the frail state he was in. He also got him food and put a fiver in the bag, as well as a coat, and jokingly said: 'Make sure next time I see you, you have a coat on!' He's done it because he knew the person was genuine and he just wanted to help," he added.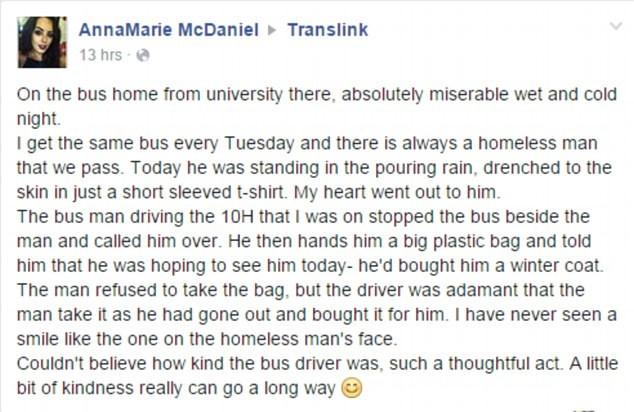 Mr Dornan, who was speaking on behalf of Mr Doyle, explained: "He told me he had repeatedly seen this young man standing in terrible conditions with no coat and his clothes were very thin. This particular day he just said he thought he would try and help and look after him. He put it [the coat] in a bag with some food. The young lad got very emotional and broke down."
Ms McDaniel later also revealed that she stopped and spoke to Mr Doyle before she got off the bus describing his gesture as the 'sweetest thing' she had ever seen.
She told the Belfast Telegraph: "I wanted to let the driver know that I thought what he did was the sweetest thing I've ever seen anybody do. So I spoke to him before I got off the bus. I wanted him to know how much the wonderful thing he had done had meant to me."
A Translink spokesman said: "We commend our colleague on this act of kindness for someone in need."