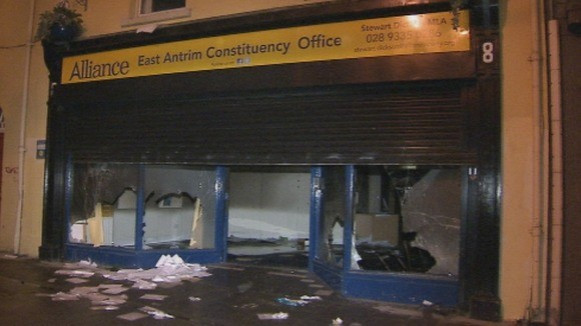 Four police officers have been injured and an office belonging to the non-sectarian Alliance Party in Northern Ireland has been torched during continuing loyalist Union flag protests.
The offices of Alliance MLA Stewart Dickson, in Carrickfergus, County Antrim, was attacked and missiles thrown at police as around 1,500 loyalists gathered to protests against Belfast City Council's decision to only fly the Union Flag at City Hall on designated days.
Non-lethal batons rounds were discharged in an attempt to control the riots. Police Service of Northern Ireland (PSNI) assistant chief constable Will Kerr said: "What we saw in Carrickfergus was the result of bringing large numbers of people out onto the street where we can't control those large numbers of people.
"We saw criminal, thuggish, intimidating behaviour here and we need to put a stop to this."
Two men and two woman were arrested in connection with the violence.
US Secretary of State Hillary Clinton is due to arrive in Belfast to discuss the peace process and investment opportunities in what could be one of her last foreign engagements before her terms ends next month.
The riots started over Belfast council's decision to fly the Union Jack flag only on designated days at City Hall. The flag was officially removed after Belfast council voted 29-21 to end the practice of flying it all year round. It will now only be flown on 17 designated days.
Offices in east Belfast belonging to the party's only MP Naomi Long had been picketed as the riots escalated, and Alliance party member councillor Laura McNamee was advised not to return to her home because of fears for her life.
The home of Michael and Christine Bower's, who are both Alliance Party councillors in Bangor, County Down, was also attacked with a paint bomb close to where their 17-month old baby plays.
Stewart Dickson, an Alliance Party member at the Northern Ireland Assembly who used the offices, said : "This is an outright attack on democracy and cannot be allowed to continue. The police have informed me that my office is on fire. This campaign of intimidation against the Alliance party cannot be allowed to continue."
Dickson added he believed the DUP and UUP were to blame for the violence because they "distributed bogus leaflets across loyalist areas in Belfast ahead of the December meeting of Belfast City Council".
"They cannot expect to whip up Unionist tensions and encourage people to protest and then wipe their hands of any involvement," he said.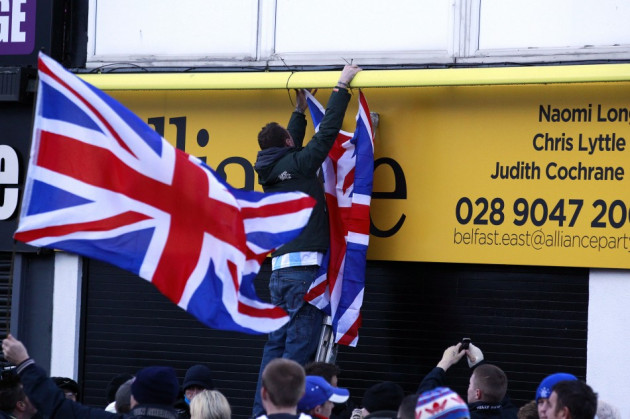 DUP MP Sammy Wilson condemned the attack in Carrickfergus.
He said: "People are entitled to peacefully protest but there is absolutely no justification for the carnage which has been caused in Carrickfergus this evening," he said.
"Those involved do a disservice to the flag they claim to defend. Today, in the House of Commons, several MPs backed the union flag being flown from city hall, however this criminal behaviour undermines and distracts from the argument.
"I urge those involved to step back from this criminal activity and channel their energies through democratic politics."
Ulster Unionist leader Mike Nesbitt MLA added: "What unionism needs today is brains, not brawn. We need an analysis, a strategy and an agreed outcome. I am happy to talk to anyone, if they commit to repent and desist from violence."