Ben Affleck: Batman actor was 'sober' during expletive-filled Tom Brady rant on Bill Simmons' talk show
Affleck told Any Given Wednesday host Deflategate is the most outrageous sporting scandal ever.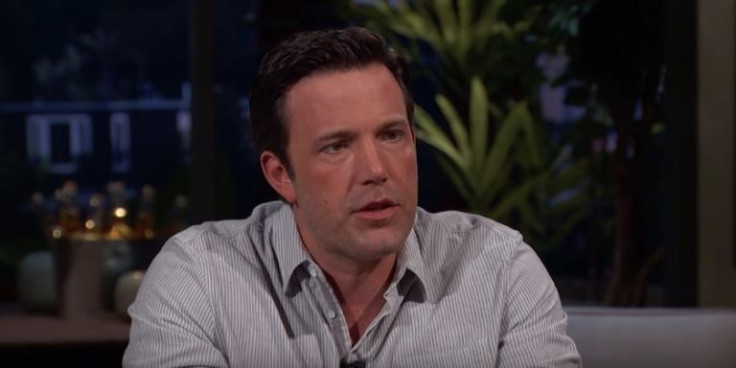 Ben Affleck sparked concern after launching into a foul-mouthed rant on an HBO talk show but sources close to the actor say he was completely sober. The Batman V Superman star appeared on the premiere episode of Bill Simmons' series Any Given Wednesday on 22 June to discuss the American football scandal involving NFL player Tom Brady.
Clearly passionate about the Deflategate furore, Affleck, 43, repeatedly swore while debating the issue with host Simmons and appeared to slur his words, leading fans to suspect he was under the influence of alcohol. However, a source reportedly told TMZ that Affleck was "stone cold sober" and simply felt strongly about the topic.
According to the publication, the Suicide Squad actor got into a heated discussion with Simmons before filming began at 11am, explaining his anger about the scandal. In April 2016, the 2nd US Circuit Court of Appeals reinstated Brady's four-game suspension over his role in tampering with footballs before a playoff game in 2015.
Addressing the highly-publicised scandal, Affleck told Simmons: "Deflategate is the ultimate bullsh*t f***ing outrage, of sports ever. It's so f*****g stupid." He added of Brady refusing to hand over his mobile phone to the NFL: "The first thing they're gonna do is leak this s**t! I dunno, maybe it's funny lovely sex messages from his wife, maybe it's just friendly messages from his wife. Maybe Tom Brady is so f*****g classy, and is such a f*****g gentleman, that he doesn't want people to know that he may have reflected on his real opinion of some of his co-workers."
Reactions to the interview flooded social media with one viewer commenting: "What was wrong with @BenAffleck on #AnyGivenWednesday ?? Freaking me out," while another said: "Is Ben Affleck drunk? Slurring his words, rambling about Deflategate, dude looks totally soaked." Some found the five-minute segment rather amusing with one joking: "5 minutes of Ben Affleck drunk on HBO provided more entertainment than the two-and-a-half hours of Batman v Superman," and another quipping: "Listening to a drunk Ben Affleck rant about the NFL just makes me like him a little more than yesterday."
This is the second time in 2016 that Affleck has caused concern following a TV appearance. In March, a the Argo director became a viral sensation when a clip of him looking incredibly sad when pressed on the bad reviews of Batman V Superman during an interview began circulating.
Watch Ben Affleck's rant on Any Given Wednesday (WARNING: Bad language):
© Copyright IBTimes 2023. All rights reserved.