The cast and crew of Batman v Superman: Dawn Of Justice, including Ben Affleck, Henry Cavill and Amy Adams, are set to make an appearance at San Diego Comic-Con this weekend, as Warner Brothers serve up a trifecta of titles in the form of Pan, The Man From U.N.C.L.E and of course, DC's latest.
But it appears as if some exciting Dark Knight-related news has already been exclusively revealed before the filmmakers even got a chance to sit down at their proposed panels; Ben Affleck has been suggested as the next standalone Batman film's next director... as well as its star and co-writer, as attempting to fill Christopher Nolan's well-respected boots just wasn't enough of a challenge for the Gone Girl star.
Rumours have been circulating that this was going to happen since last year, but this is the first time that there has been some hint of confirmation and the fact that it's amidst all of the Comic-Con hype seems more than promising that it's true. All that's left now is for Warner Bros Studios to make an official announcement during the weekend's pop culture event.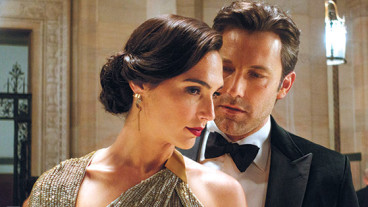 The last feature film the 42-year-old directed earned him a Golden Globe for best direction and an Academy Award nomination for the same title. Whilst he didn't win that Oscar specifically, his movie Argo ended up walking away with the highest accolade of the night for best motion picture.
It's interesting to note that the Hollywood star also won a Academy Award for best screenplay when he penned Good Will Hunting with Matt Damon back in 1997.
According to Deadline, before Affleck dedicates his time to providing Bruce Wayne with another solo movie however, he first intends to complete production on his adaptation of the Dennis Lehane novel, Live By Night, which will also have him sitting in the director's chair and starring alongside the likes of Zoe Saldana and Sienna Miller.
But given the already jam-packed schedule when it comes to upcoming DC movies, he has the time to spare. The standalone film will undoubtedly have to come after he has set up his character in both Dawn Of Justice (which will be released in cinemas in March 2016) and the follow-up Avengers Assemble rival Justice League in 2017.
Affleck will reportedly be joined on the Batman venture by screenwriter Geoff Johns, in order to pen the script for the upcoming picture, and it seems as if its in good hands considering Johns' history in comic-book adaptations. He has previously written for DC films such as Green Lantern, Justice League, Aquaman, Batman and Superman, and has also worked on televisions series including Smallville, The Flash, Arrow and most recently CBS's Supergirl.