Sherlock co-creator Mark Gatiss put the show's fans in a frenzied state late last night (8 July), as he wrote on his personal Twitter account that "a little treat was heading [our] way at midnight," mysteriously accompanied by the hashtag "#Sherlock".
And before Sherlock lovers could do much guessing as to what the surprise could be, bang on 12am BBC One revealed a new image in promotion of the upcoming Christmas special surrounding the iconic detective, which is reportedly going to be set in Victorian England.
The snapshot depicts a rather dapper-looking Benedict Cumberbatch dramatically posing on a green leather armchair, while co-star Martin Freeman perches on one side. Both actors are dressed head-to-toe in period costumes.
Speculation has begun as to how the showrunners can justify the modern-day characters adventuring in the 1800s, with many suggesting that the pair will be involved in some kind of time-travelling plot.
The Christmas special is a highly anticipated among avid Sherlock fans, giving them a little taster of what might come in the upcoming fourth season of the critically acclaimed drama, which is not set to return to television screens until 2017. This marks an incredibly long stint between instalments, considering that each season is only three episodes long and the third series ended way back in January 2014 – but it will undoubtedly be worth the wait when it finally airs.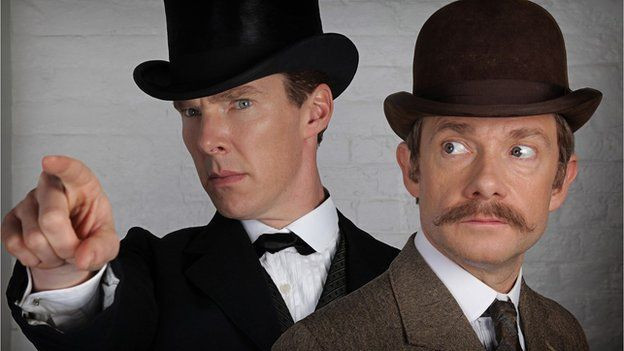 Sherlock producer Sue Vertue released a fairly similar image last November, which saw the duo wearing Victorian attire but sporting much more quizzical looking expressions, as if they were in fact trying to solve a mystery right then and there.
Fans took to Twitter to respond to the latest image, with some hardly able to contain their excitement. However, most of them just couldn't stop talking about Freeman's impressively bushy moustache...