A father who beat his six-year-old daughter to death during a "fit of rage" has been jailed for life after being found guilty of her murder. Ben Butler, 36, has been convicted of murder and child cruelty following the death of Ellie Butler in October 2013.
The six-year-old was killed at her family home in Sutton, south London, after her father left her with "catastrophic" injuries which were likened to those caused in a high-speed car crash.
Butler, described in court as a man who "consistently teetered on the edge of a violent loss of temper" attacked the six-year-old while looking after her alone. Butler then rang Ellie's mother, 36-year-old Jennie Gray, and the pair proceeded to make the girl's death look an accident by making it appear like she had fallen off a chair. Evidence suggests Ellie died after being thrown into a wall or to the ground by Butler, or struck in the head with a blunt object such as a table leg.
The pair claimed to have discovered Ellie's unresponsive body and immediately rang 999. However, during the investigation, evidence showed the six-year-old suffered severe injuries at least two hours before emergency services were called. Gray was also found to have arrived at the home one hour before the ambulance arrived after receiving a call from Butler at work.
During this time, Gray and Butler conspired to make the death look like an accident by disposing of any evidence which could complicit them. It also emerged that the pair failed to provide medical care for Ellie after she had fractured her shoulder in the weeks before her death. She also had bruises consistent with being gripped around her jaw and underlying eye and brain injuries.
Butler has now been sentenced to life in prison, with a minimum of 23 years, for murdering his six-year-old daughter Ellie. Gray was also found guilty of child cruelty at the Old Bailey, following a previous trial, pleading guilty to perverting the course of justice at an earlier hearing. She was jailed for 42 months.
As the verdicts were returned Butler mumbled angrily, while Gray said: "Big mistake, big mistake, big mistake."
In court, Butler attempted to portray himself as a loving stay-at-home dad but in reality he was seething with uncontrolled rage and resented his home husband role. According to the Guardian, who spoke to Butler's neighbours, he was "a vile human being," a "coke head" and "nutter" whose temper was so volatile he was "banned from all the pubs in the high street." He also held a string of previous convictions for violence.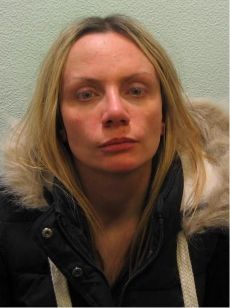 The court heard that Ellie was taken into care after Butler was convicted and jailed for allegedly shaking her in 2007 when she was seven weeks old. However, this conviction was overturned in 2010 following an appeal and she was returned to her parents in November 2012 – 11 months before she was murdered.
Detective Inspector Dave Reid, of the Homicide and Major Crime Command, said: "There is no doubt that Ben Butler is a man with a ferocious temper and a short fuse. This was clear from the evidence we gathered during our investigation that showed how his volatile personality dominated family life."
"He regularly teetered on the verge of a violent outburst and displayed extreme contempt for his partner Jennie Gray, who despite this put him before everything and anyone - even six-year-old Ellie.
"Butler's actions following Ellie's death were those of a man only acting to save himself. Having caused Ellie's injuries in a violent rage and whilst she lay dead or dying, he didn't call for an ambulance but instead called Gray, whom he knew would rush home and do whatever it took in order to protect him.
"Butler and Gray then set about orchestrating a set of lies to blame everyone but themselves for Ellie's murder and the events leading up to it. They lied throughout the investigation and continued making outlandish accusations against a variety of people and organisations throughout their trial at the Old Bailey.
"However, investigating Ellie's murder and tragic story meant detectives gathered a huge amount of harrowing evidence that proved Butler did indeed kill Ellie and Gray helped him cover it up. Whilst their convictions today will bring little comfort to Ellie's beloved grandparents with whom she lived for the majority of her short life or to all those who loved her, I hope they will go some little way to assuring them justice has now been achieved."