Sherlock actor Benedict Cumberbatch showed his romantic side on Wednesday morning by announcing his engagement to Sophie Hunter in The Times newspaper (5 November).
The British actor, 38, has not always been so public about his relationship to Hunter, 36, however, and kept his partner's identity secret for weeks before it was revealed in September.
Contradictory to previous reports that Cumberbatch's "secret" partner was not a public figure, the Sunday Mirror confirmed that his leading lady was in fact his former co-star, British actress Hunter.
"Watch this space. You never know," Hunter's mother Anna told the tabloid of her daughter's romance with the actor at her home in Edinburgh, days before the relationship was revealed. The couple had reportedly been dating steadily for an unspecified number of weeks.
Hunter acted alongside Cumberbatch in thriller Burlesque Fairytales, playing Annabel Blythe-Smith to Cumberbatch's Henry Clark. You watch the couple's scene together in the film here – starting at the 1.29 mark.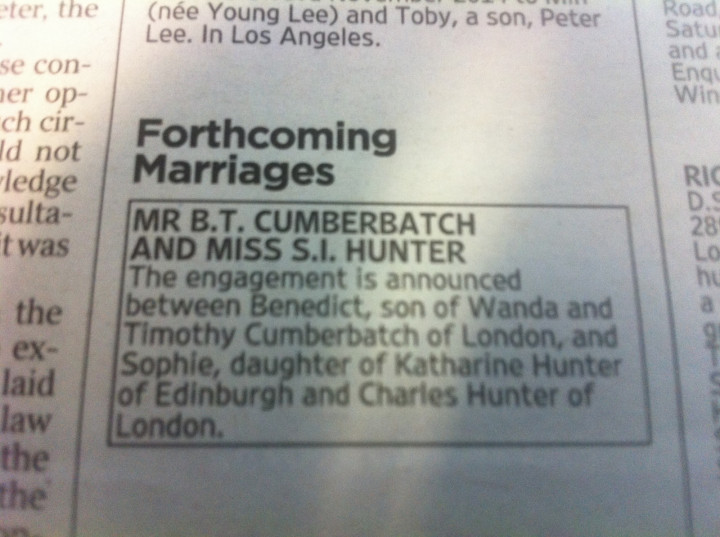 Hunter's most recent role was in the 2012 British short Maria, but the Oxford graduate, actress and theatre director has 13 other acting credits to her name.
In 2004 she starred with Reese Witherspoon in the critically acclaimed Vanity Fair, though most of her other work rests in TV series and made-for-TV films.
Cumberbatch's new relationship comes two years after his split from fashion designer Anna Jones in 2012. His longest romance to date, nearly 10 years with actress and screenwriter Olivia Poulet, ended in 2010.
The announcement in today's Times reads: "Mr BT. Cumberbatch and Miss S.I. Hunter: The engagement is announced between Benedict, son of Wanda and Timothy Cumberbatch of London, and Sophie, daughter of Katharine Hunter of Edinburgh and Charles Hunter of London."
A spokeswoman for the actor confirmed the news, saying: "I am delighted to confirm this morning's announcement that Benedict Cumberbatch and Sophie Hunter are engaged."
Cumberbatch is tipped for an Oscar nomination for his role in current film The Imitation Game, about English mathematician Alan Turing in World War Two.