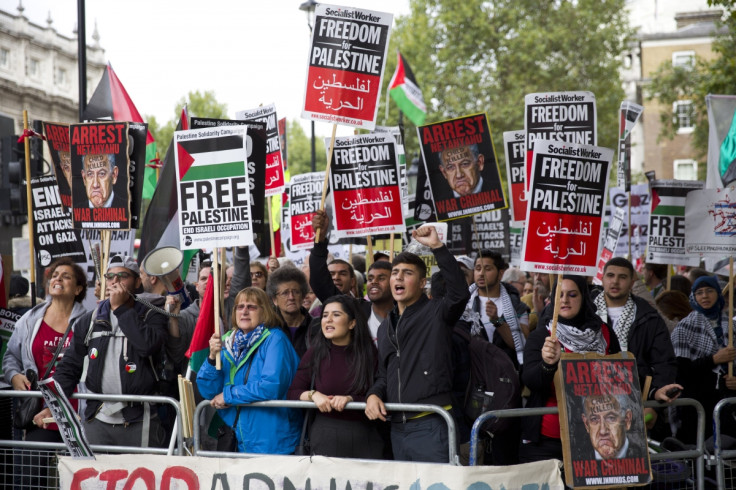 Benjamin Netanyahu has been met with protests on the first day of his official visit to the UK with crowds of around 300 people holding rival pro Palestine and Israel demonstrations as the Israeli prime minister met with David Cameron at Downing Street.
Police reinforcements had to be called to Richmond Terrace that adjoins Downing Street where the protests were being held. Scuffles broke out as a group of around 40 pro-Israeli demonstrators faced a larger crowd of pro-Palestine protesters holding "Free Palestine" banners and waving Palestinian flags.
Reports on social media claimed at least one individual involved was being detained by the police as the demonstrations became more boisterous.
In a speech prior to his departure from Israel, Netanyahu looked to shift the focus of his visit to the UK from Israel's controversial policy towards Gaza and emphasise his country's role of as an ally against the Islamic State.
However, with an online petition for the Israeli PM's arrest in the wake of last year's Gaza war gaining momentum with over 107,000 signatures, the 2014 war and condemnation of Israel's human rights record in Gaza look likely to dog the rest of his two day stay.
The government has made it clear that visiting heads of state have immunity from prosecution.
In a statement, the government said on Tuesday: "We recognise that the conflict in Gaza last year took a terrible toll.
"However the prime minister was clear on the UK's recognition of Israel's right to take proportionate action to defend itself within the boundaries of international humanitarian law," it added.