Nigel Farage has faced a backlash after suggesting Angela Merkel is to blame for the suspected terrorist attack on a Christmas market in Berlin. The attack on Monday evening (19 December) saw a truck plough into a crowd at the busy market at Kaiser Wilhelm Memorial Church, killing 12 people and injuring 48 others.
Farage tweeted on Tuesday morning: "Terrible news from Berlin but no surprise. Events like these will be the Merkel legacy."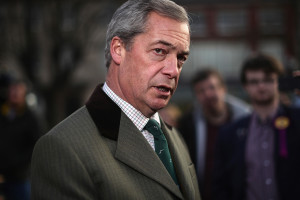 The former Ukip leader was quickly criticised by social media users, who accused him of using the attack to score political points against the German Chancellor.
Brendan Cox, husband of murdered Labour MP Jo Cox, also attacked Farage's comments, tweeting: "Blaming politicians for the actions of extremists? That's a slippery slope Nigel."
A Twitter user wrote: "This post shows the type of human you are. Using this as point scoring against Merkel, disgusting."
Another said: "This gives no comfort at all to those involved. Now is not the time to gain political or career advantage."
But others defended Farage, blaming the attack on Merkel's open-door immigration policy towards refugees during the Syria crisis which saw more than a million migrants enter Germany last year.
Farage later took to LBC to say it was "time that people started to take responsibility for what has happened." He also attacked Cox for supporting the well-known anti-extremist charity Hope not Hate, saying: "Well, he would know more about extremists than me, wouldn't he?"
Hope not Hate has regularly attacked Ukip and accused it of being a "hardline" right-wing organisation.
Farage's comments come as the suspected terrorist accused of carrying out the attack in Berlin was named as "Naved B", a 23-year-old from Pakistan who is said to have entered Germany last year.