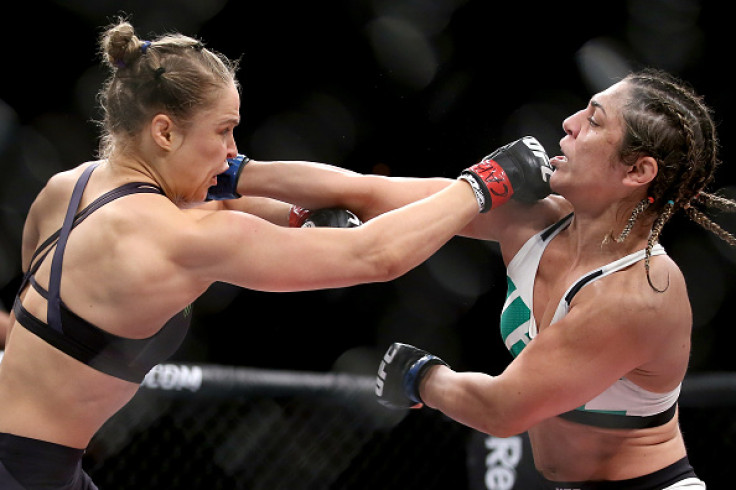 UFC bantamweight women's fighter Bethe Correia has challenged Ronda Rousey for a rematch in Sao Paulo for a chance to avenge a 34-second knockout she suffered at UFC 190 in August 2015.
The American fighter wasted no time to beat the "Pitbull" in front of her supporters of her homeland in Rio de Janeiro, Brazil last year. That was the 33-year-old's first career defeat. She then went on to suffer another loss at the hands of Raquel Pennington in Florida earlier this April.
Correia has set her sights on a rematch with Rousey in order to level the score following her knockout loss in Rio de Janeiro. She revealed that the earlier clash had left a "damage," which has urged her to fight even more.
"My fight against Ronda left a damage here, and I want to fight more, win more, to have experience, in order to have Rousey vs. Correia 2, maybe here in Sao Paulo, so it can be very different, and leave with my head up," Correia explained, as quoted by MMA Fighting.
Rousey suffered her first career defeat at the hands of Holly Holm last year. She will return to the octagon for the first since her defeat and she will take on Amanda Nunes at UFC 207, where Correia's compatriot will defend her UFC women's bantamweight championship in Las Vegas on 30 December.
Correia has slammed Miesha Tate for her decision to retire from the sport following the latter's defeat to Pennington at UFC 205. The Brazilian fighter aimed a dig at Tate, suggesting that the latter is "bipolar" and weak.
"She showed she's bipolar because when the UFC didn't want her fighting for the belt, she wanted to retire. She lost to Raquel and got herself in a bad phase, lost to Amanda, and announced her retirement," she stressed.
"When you're not going the way you want and you run away from it, that shows weakness. I've been through a lot of tough moments in the UFC and never wanted to retire. Quite the opposite."