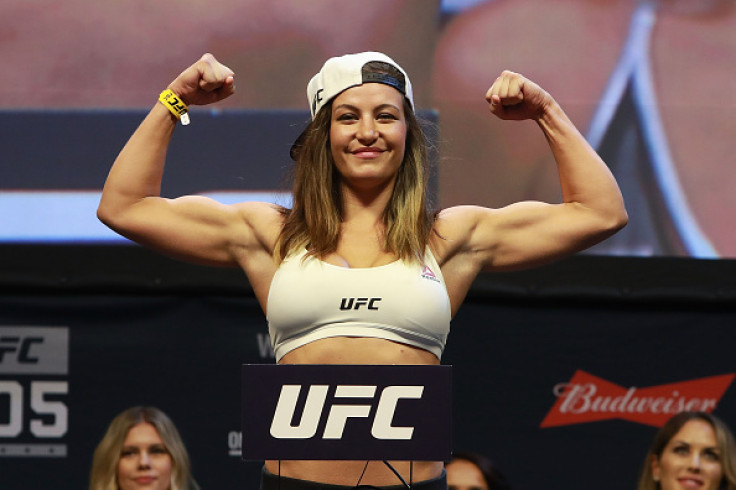 Miesha Tate has questioned Ronda Rousey's mental focus while backing her opponent and reigning champion Amanda Nunes to win their upcoming bantamweight title fight in December at the T-Mobile Arena in Las Vegas. The former bantamweight champion is returning to the octagon after a year-long hiatus following her brutal knockout loss to Holly Holm last November when she surrendered the title.
Tate announced her retirement following her recent loss to Raquel Pennington at UFC 205 and is well aware of Rousey's strengths and weaknesses as they faced each other on two occasions in the past, both of which she lost via submission. She is unsure if Rousey will be her former self going into the match owing to her disappointing loss to Holm last year.
The now retired fighter has also thrown her weight behind "good girl" Nunes, who beat Tate earlier in the year to clinch the bantamweight title, claiming that she, deserves the win. The Brazilian fighter has backed herself to win as well, after revealing that she has been training her entire career to fight Rousey.
"I guess what's really difficult for me to decide is what we're going to get out of Rousey. Is she doing it because she wants to or is she doing it before she feels obligated? Is that knockout going to be in the back of her mind? Is she going to be punch shy? It's kind of like – I remember when I went skiing for the first time, I was like 5 years old and I just blitzed down the hill. I had no fear. The first time that I wrecked really, really hard is when I realized this is actually dangerous ... so you kind of wonder what has that put in the back of her mind?" Tate said, as quoted by Townsville Bulletin.
"I know that Amanda is a very solid fighter and she hits like a ton of bricks," Tate said. "She's a very worthy opponent. It should be interesting. ... I want Amanda to win. She's a sweetheart and a good girl. I think she deserves it," she added.