Beyonce received critical acclaim for her Lemonade visual album but one man says the idea is not so original after all. Filmmaker Matthew Fulks claims the trailer used to promote the Lemonade film is "substantially similar" to a short film he released in 2014.
In April 2016, Beyonce, 34, premiered the visual album on HBO before releasing the Lemonade album hours later. Prior to its debut, publicity for the film was drummed up with a one-minute trailer. In his lawsuit, Fulks, who is creative director at news station WDRB in Louisville, Kentucky, and is an independent filmmaker, claims the Lemonade trailer features scenes similar to his 2014 short film Palinoia.
After being approached by Columbia Records group MS MR, Fulks claims Palinoia was sent to Bryan Younce, who has worked on several Beyonce videos in the past and is senior vice president of video production at Columbia. Younce is alleged to have contacted Fulks in July 2015 and asked the filmmaker to produce storyboards and a development plan for the record label, which is an imprint of Sony Music.
In the legal documents, Fulks has included screen grabs of nine sequences in the Lemonade trailer which he believes are similar to moments in Palinoia, including the fact that both feature a narrator reciting poetry.
The lawsuit states: "The number of aesthetic decisions included in plaintiff's Palinoia work that are parroted in defendants' Lemonade trailer demonstrates that the Lemonade trailer is substantially similar to the Palinoia work.
Watch Beyonce's Lemonade trailer:
"The misappropriated content includes both the particular elements that the plaintiff chose to comprise the Palinoia work and the coordination and arrangement of those particular elements."
Fulks filed the lawsuit in New York against Beyonce's Parkwood Entertainment, Sony Music, and Columbia Recordings listed, and is seeking profits from the trailer.
As Beyonce is hit with another copyright complaint, IBTimes UK looks back at others who have accused the singer of artistic theft in the past.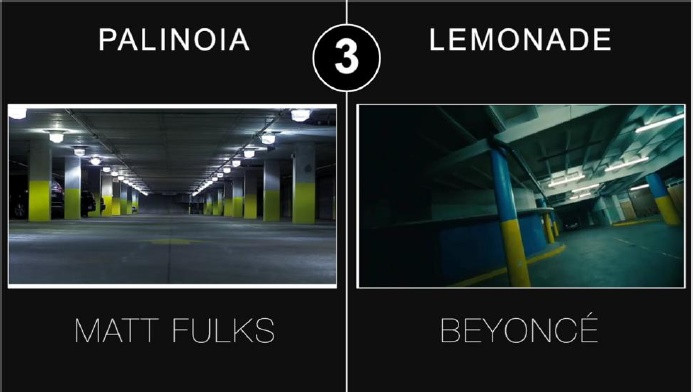 Drunk In Love
Beyonce and her husband Jay Z, 46, were accused of using the voice of Hungarian singer Mitsou without permission. Mitsou, real name Monika Miczura, claimed the power couple had used vocals from her 1997 track Gypsy Life On The Road. The singer alleged that the "blatant unauthorised use of [her] voice for trade purposes is causing irreparable harm and emotional distress".
However, a Manhattan judge ruled against Mitsou in 2015, stating: "It is undisputed that the Drunk in Love song and video are works of artistic expression."
Baby Boy
Songwriter Jennifer Armour claimed Beyonce's 2003 single, which featured Sean Paul, bore similarities to her own song Got A Little Bit Of Love For You. However, the Fifth Circuit Court of Appeals dismissed the case entirely, concluding: "Armour cannot prove Beyonce had access to Armour's demo tape before composing the allegedly infringing elements of her own song."
Countdown
Contemporary dancer Anne Teresa De Keersmaeker was far from impressed to learn that her choreography was used as inspiration for Beyonce's 2011 music video. Speaking about the alleged plagiarism, De Keersmaeker said in a statement: "People asked me if I'm angry or honoured.
"Neither, on the one hand, I am glad that Rosas danst Rosas can perhaps reach a mass audience which such a dance performance could never achieve, despite its popularity in the dance world since 1980s. And, Beyonce is not the worst copycat, she sings and dances very well, and she has a good taste! On the other hand, there are protocols and consequences to such actions, and I can't imagine she and her team are not aware of it."
In response to the accusations, Beyonce admitted the video was inspired by contemporary ballet, explaining in a statement: "Clearly, the ballet 'Rosas danst Rosas' was one of many references for my video Countdown. It was one of the inspirations used to bring the feel and look of the song to life. I've always been fascinated by the way contemporary art uses different elements and references to produce something unique."
Run The World (Girls)
Beyonce's performance at the Billboard Music Awards in 2011 was acclaimed by critics but it was later revealed to have been influenced by previous work. After comparisons were drawn to a music video from Italian pop star Lorella Cuccarini, Beyonce came clean in a statement: "My makeup artist showed me the performance of Lorella Cuccarini a year ago, and it inspired me so much.
"I then met with the talented people who worked on it. The technology and concept were so genius. Thank god for YouTube or I would have never been exposed to something so inspiring. I never worked so hard on anything in my life as that performance for the Billboard Awards. Yes, thank god for YouTube, which has also made it possible for many users to post side-by-side videos of both Beyonce and Lorella's performances!"