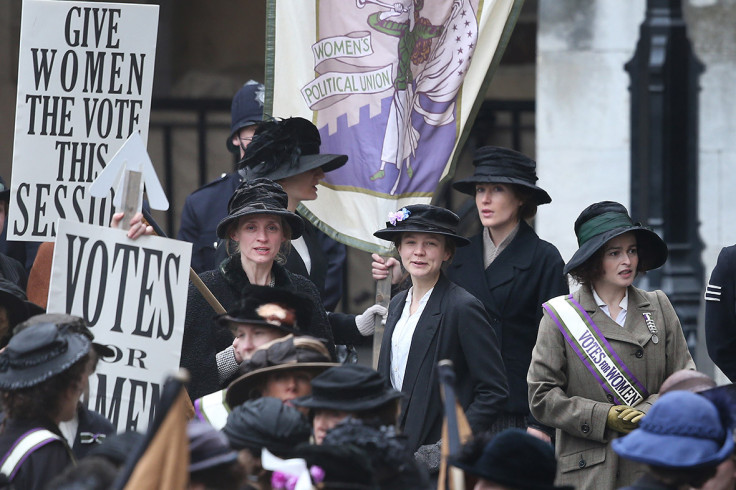 Movie buffs will be flocking to the capital throughout October with the BFI London Film Festival in town again. Kicking off on 7 October, the public will be able to see a host of new films for the first time, some of which may be hot contenders during the awards season.
Until its grand finalé on 18 October, the festival will screen 240 movies from a staggering 72 countries. There will also be a series of world premieres, talks with some industry figures, including actress Geena Davis and a cluster of short films. With so much choice, it can be hard to choose which feature-lengths to see so the IBTimes UK has whittled down some of the pictures that will be worth seeing...
Suffragette
Stars: Helena Bonham Carter, Meryl Streep, Carey Mulligan, Ann-Marie Duff, Ben Whishaw
Story: Period drama follows a group of women fighting for right for women to vote in 20th-century Britain. Streep takes on the role of Emmeline Pankhurst, the leader of the suffragette movement.
Steve Jobs
Stars: Michael Fassbender, Kate Winslet, Seth Rogen
Story: Shot in three lengthy scenes, Danny Boyle's biopic will chart the brains behind the Apple company. Set during three product launches, Steve Jobs will give viewers an insight into the businessman's work and personal struggles.
Trumbo
Stars: Bryan Cranston, Elle Fanning, Diane Lane, Helen Mirren, Adewale Akinnuoye-Agbaje
Story: Depicts the successful career of Hollywood screenwriter Dalton Trumbo who finds himself blacklisted in the 1940s for being a communist and fighting against the US government. Definitely one for those who have missed Cranston since the end of Breaking Bad.
Beasts Of No Nation
Stars: Idris Elba, Abraham Attah
Story: Set in an unnamed African nation, the drama follows a young boy named Agu who is fighting in the country's civil war. Elba stars as the commander of the army who takes the boy under his wings.
Truth
Stars: Cate Blanchett, Elisabeth Moss, Robert Redford, Dennis Quaid
Story: Based on the book Truth And Duty written by Mary Mapes, Truth follows the CBS journalist as she works to expose a story on George W Bush in the run-up to the 2004 presidential election. The story in question is the claims that the former president is able to avoid being drafted to Vietnam through the political influence of his father George Bush.