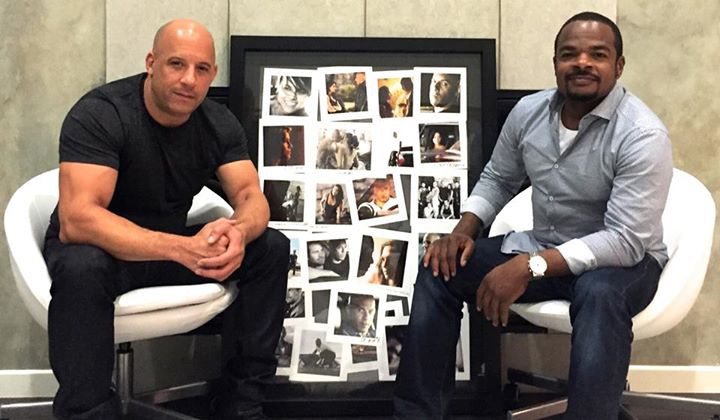 If you are a fan of both Straight Outta Compton and Fast and Furious 8, then this news will definitely elate you. Vin Diesel has shared a picture of himself with F Gary Gray, sparking rumours that the eighth sequel to the massively popular franchise may have found a director.
Fast 8 is yet to proceed with the pre-production phase but the franchise is yet to choose a director who can anchor the next instalment of the American action thriller. Variety reports that Universal Studios has narrowed down the search to four directors - Gray, Adam Wingard, Louis Leterrier and Will Eubank.
But star and producer Diesel's Facebook post hints that the studio has finally found the person who can take the F&F series to another level post Paul Walker's death. Earlier there were rumours that the eighth instalment of the highly anticipated franchise is in jeopardy with its own directors leaving the movie despite the seventh edition grossing over $1.5bn (£9.8bn) worldwide.
Later, Diesel dismissed the speculations and said that "no one has been offered to helm Fast 8 yet... let alone seen a script." He also denied the rumours that he may wear the director's hat by saying "my producing partner Neal would love for me to just sign off on a director, but this is too special a franchise, so these matters have to be very carefully handled."
In his Facebook post, he also mentioned that in one of his next posts he would announce the name of the director. However, instead of announcing anything he posted his picture with the Straight Outta Compton director.
Earlier, The Hollywood Reporter claimed that the studio had tried to bring back Justin Lin (the director of four F&F movies) by offering him "life-altering money" but he declined the offer and chose the next Star Trek movie instead. "It is no secret that my good friend Justin and I have been very intensely discussing the trilogy, as we have dreamed it for almost a decade. We know that when we re-team we will shock the world. It is also no secret that he is finishing Trek for JJ and won't be done in time for us to make the date the studio wanted me to announce of April 14th 2017," the 48-year-old Witch Hunter star said in a statement.
Furious 7 saw massive box office collections as it was premiered after the death of its lead star Paul Walker. But it has to be seen if the movie will taste similar success with its next instalment Fast and Furious 8, which will be set on the streets of New York.