The wife of controversial Radio Biafra director Nnamdi Kanu has explained to IBTimes UK why his husband advocates for the independence of Biafran territories. Uchechi Okwu-Kanu believes her spouse, detained by the Nigerian state security service (DSS), is a prisoner of conscience who was arrested for advocating self-determination.
Kanu is the leader of the Indigenous People of Biafra (Ipob). Ipob and other pro-Biafran groups call for the independence of territories that constituted the Biafran Republic, established in 1967 and reannexed to Nigeria in 1970, following a civil war that claimed between one and three million lives. The Radio Biafra director was apprehended on charges of criminal conspiracy, intimidation and belonging to an unlawful society. He pleaded not guilty.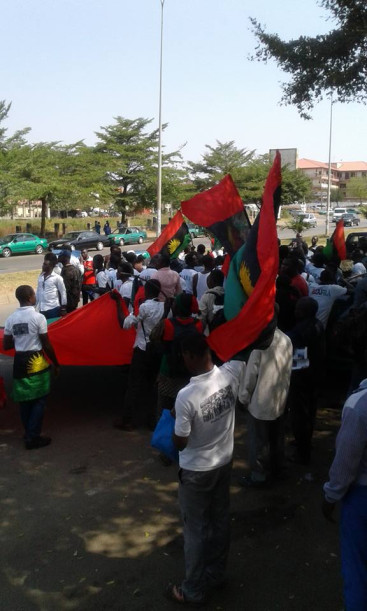 The Nigerian government told IBTimes UK that it does not consider the separatist movement a threat to the current leadership and defined pro-Biafrans as an "insignificant number of frustrated people who are not a threat to the existence of Nigeria".
The minister of information, Lai Mohammed, urged Nigerian leaders to the defend the unity of the country but said pro-Biafran demonstrators are completely legitimate.
Army spokesman Colonel Sani Usman told IBTimes UK: "The message to the Biafrans is clear: The army and police might use the Rules of Engagement on security operations to the fullest depending on the circumstances."
When contacted by IBTimes UK, the UK government said: "The position of the UK government during the Biafran War is a matter of historical record. The UK government's position, which reflected the Charter of the Organisation of African Unity, was to recognise the borders laid down at Independence.
"The Biafran War caused great suffering and the UK supported the reconciliation work that followed the conflict. The UK supports the territorial integrity of Nigeria and President Buhari's commitment to work for a secure and prosperous Nigeria for all Nigerians."
---
Nigeria up close: Check out our Flipboard magazine
---
What is the right to self-determination?
This right is a core principle of international law and is enshrined in many documents issued by the United Nations, of which Nigeria became a member in 1960.
The UN's Declaration on the Granting of Independence to Colonial Countries and Peoples, issued in 1960, states that: "All peoples have the right to self-determination; by virtue of that right they freely determine their political status and freely pursue their economic, social and cultural development."
This right is also contained in the UN's International Covenant on Civil and Political Rights (ICCPR) and the International Covenant on Economic, Social and Cultural Rights (ICESCR), of which Nigeria became signatory in 1993.
Both documents state: "The States Parties to the present Covenant, including those having responsibility for the administration of Non-Self-Governing and Trust Territories, shall promote the realisation of the right of self-determination, and shall respect that right, in conformity with the provisions of the Charter of the United Nations."