Biafra rebel: We will return to violence if Nigeria does not release Nnamdi Kanu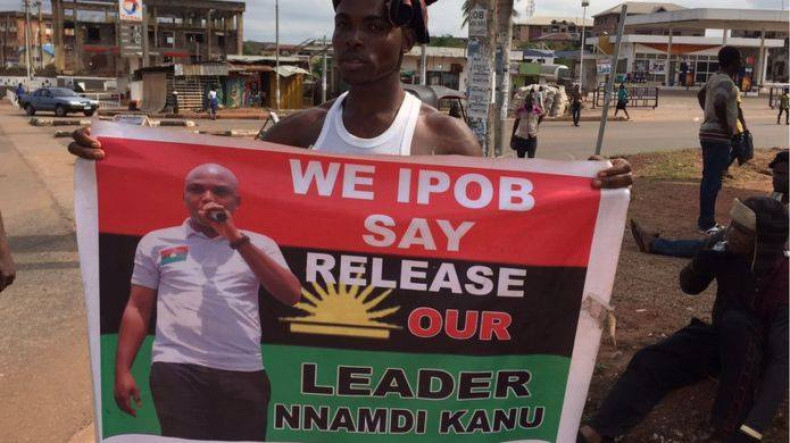 This will be the sixth day that we have marched on the streets of Anambra State to demand the release of Nnamdi Kanu, the leader of the Indigenous People of Biafra (Ipob) movement and the director of London-based Biafra Radio. The Nigerian government has met these protests with violence and at least 10 of our people have been killed while dozens have been injured.
Despite claims that Kanu has been released on bail, nobody has been able to speak to him since and I can't say what he is charged with. This is one of the reasons we are angry: they cannot say that a crime has been committed and so this is an unlawful detention.
We also want to drive our cause. All across Biafra land, Nigerian police have embarked on a killing spree while we have protested peacefully and without violence. We will march with our flag and they will continue to kidnap and kill us but there is no violence on our side: anyone can verify that. Our protests have been peaceful.
That may soon change. I don't think that protests might turn violent – I know. We can't tolerate being able to walk around freely while our leader is in prison. We have peacefully expressed our grievances and anger at his detention. We have let the world be known that truth be told, we are peaceful.
But if we express our grievances in a peaceful way and our leader is not released, then we have no other option but to turn to violence. It appears that only violence is given credence. Only violence do they understand. If they refuse to give us our leader, we have to turn violent.
We have not fought a war with the Nigerian government in more than 40 years. Biafra declared independence in 1967 and was annexed by Nigeria after three years of war in 1970. But 2015 is an auspicious time for our movement. When the Nigerian state was created by Britain in 1914, it was agreed that the amalgamation of north and south was to last 100 years, after which, if it was not working, the state could dissolve.
That deadline has come and gone and the country is not working. But the Nigerian government do not want to leave because our region possesses all of the country's oil. Nigeria operates a mono-economy – based entirely on oil – and all that wealth comes from Biafra. That is the real reason that they want us to stay. The election of Muhammadu Buhari, the president of Nigeria earlier this year, has changed nothing on the ground.
We can't go back to our homes and stay silent while they keep our leader. We can't continue to be slaves in our home country. We can't go home and sleep while our freedom is being taken away. We have to fight for it. If we are serious about Biafra, we may have to turn to violence.
---
The author is an activist with Biafra separatist group the Indigenous People of Biafra (Ipob). He has asked that his name be changed for fear of reprisals.
---