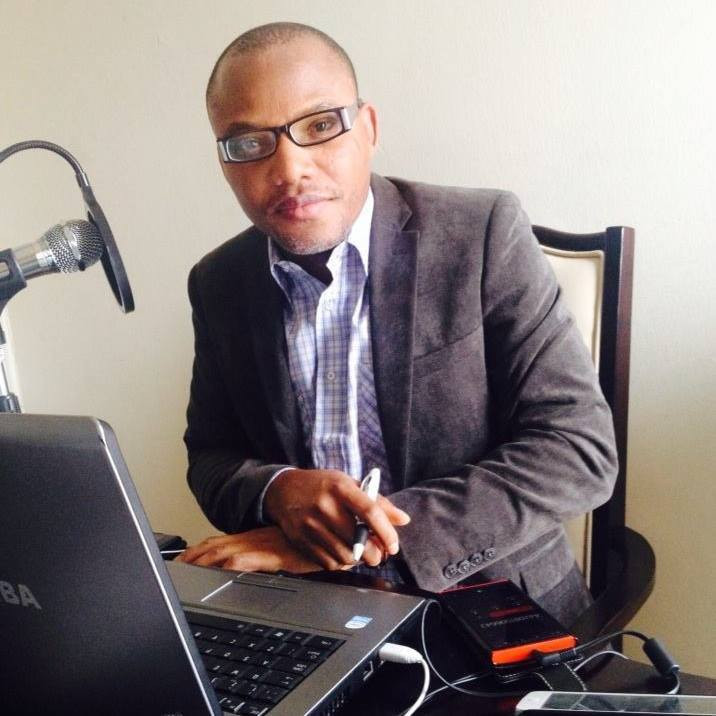 The leader of a separatist movement that calls for the independence of the Biafran territories in southeastern Nigeria is still being detained by the Nigerian government, according to rights group Intersociety, based in the Anambra state. Nnamdi Kanu was apprehended by the Nigeria's state security service (DSS) in Lagos on 18 October.
Kanu is considered the leader of Indigenous People of Biafra (Ipob) and is the director of the London-based radio station Radio Biafra, which the Nigerian government has deemed illegal. Ipob and other groups advocate the independence of the Biafran territories, which separated from Nigeria in 1967 and were re-annexed to the African nation in 1970 following a civil war that killed between one and three million people.
A few days after the arrest, the DSS confirmed to IBTimes UK that Kanu had been released on bail. However, several people who support the Biafran cause alleged that Kanu is still being detained by the Nigerian authorities and that he has not yet resumed his talks on the radio station he runs.
Intersociety was quoted by the Vanguard Newspapers as alleging that the DSS had failed to release Kanu even after he was granted bail by the Magistrates Court in the federal capital of Abuja.
Speaking to IBTimes UK, David Otto, CEO of UK-based global security provider TGS Intelligence Consultants, said Kanu has not made any official statement regarding his situation. "There is this element of dichotomy in terms of who is actually telling the truth," Otto said. "The only way you can actually ensure that Kanu has been released is that if he makes a statement. However, my opinion is that if the government released a statement saying that he was released on bail, I don't see why it should be otherwise."
IBTimes UK also spoke with a prominent NGO in Abuja, which said it met Kanu's laywer, Egechukwu Obetta, on 25 October. According to the source at the NGO − who spoke under the condition of anonymity as he had not been authorised to comment on the issue − Obetta alleged his client had not been released even after the conditions for the bail were met.
"As of now [28 October], he is still being detained," the source said. "The government actually took Kanu to court and the court granted bail, but Kanu is still being detained by the DSS. This is what the lawyer told me, but I have not independently verified."
Police deny shootings during October protest
Kanu's arrest triggered several protests across states in southeastern Nigeria. Some pro-Biafrans alleged that police shot on people who were "peacefully" calling for Kanu's release. Pro-Biafrans have accused the police of being violent against the separatists several times. The police denied the claims, while rights group Amnesty International said in an exclusive report by IBTimes UK that there is "credible evidence that pro-Biafran separatists in Nigeria are targeted by police".
Public relations officer for the police in Anambra state, Oleehkukyu Ali, told IBTimes UK that some Nigerian media reported "misleading" articles alleging that Anambra police shot on pro-Biafran protesters during a demonstration in Onitsha town on 20 October.
Ali said: "The reports are not true. We vehemently state that nobody was shot in that protest." He also added that some people were arrested as they allegedly blocked the highway causing a traffic jam and harassed people.
"They behaved in a way that was likely to cause a breach to the peace in the state," Ali continued. "The police dealt with the issue professionally and arrested some demonstrators. They were brought to the police headquarter and the commissioner of police cautioned them not to conduct themselves in a manner that could disrupt peace. They were released the same day and nobody was shot. We are surprised about these reports."
Ali also said that the police have nothing against Ipob, Massob and other groups, as long as they behave in a peaceful way.
"Our country provides freedom of association, speech and movement. But groups have to behave peacefully. Police in Anambra are operating a very open policy and leaders of groups should engage with us and let us know what they are doing so we are aware of protests."
Ali added that movements that advocate for independence are against the unity of Nigeria. "But if they talk about freedom and independence it's their voice and people can listen to them, but they cannot go beyond peaceful protest," he concluded.
When asked about Kanu's whereabouts, Ali said: "I am only the spokesperson for the Anambra police. What I am seeing on the papers this morning [28 October] is that he has been released."