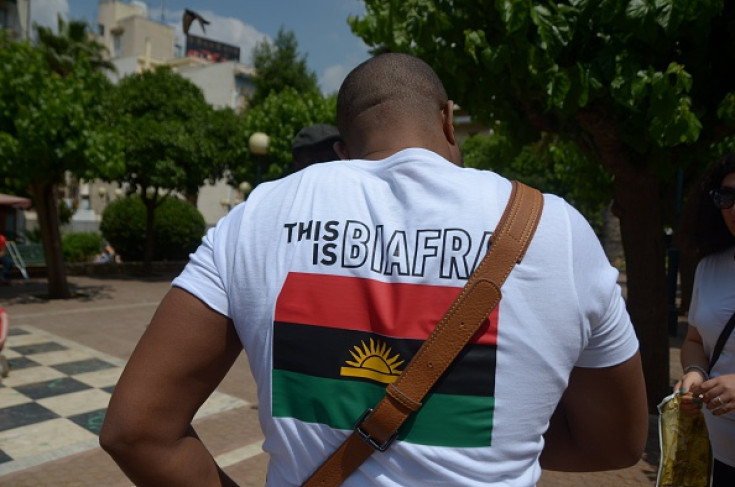 Hundreds of people who support the restoration of the Biafran territories in southeastern Nigeria have taken to the streets of Delta State and Anambra state, calling for the release of people, including pro-Biafran leader Nnamdi Kanu and former governor of Delta State James Ibori. Kanu is the leader of Indigenous People of Biafra (Ipob) and is the director of the London-based radio station Radio Biafra, which the Nigerian government has deemed illegal. He was arrested early in October in Lagos and, according to the Nigeria's state-security service (DSS), he was released on bail.
Many pro-Biafrans, however, have alleged that Kanu is still being detained by the DSS despite the fact that a bail verdict had been issued by the Magistrate Court in Abuja. The same allegations were made by members of a leading NGO in Abuja and the intelligence, who both spoke to IBTimes UK on condition of anonymity as they had not been authorised to publicly comment on the issue.
Protesters are also calling for the release of other people, including Ibori, who was arrested in London and sentenced to 12 years in jail in 2012 after pleading guilty to at least 10 counts of money laundering and fraud.
A member of Ipob, who spoke to IBTimes UK on conditions of anonymity, said that Ibori's arrest is "a case of hypocrisy" and alleged that the British government does not target Nigerians who come from the north.
The source said: "Ibori's is a case of conspiracy and blatant hypocrisy on the side of the British government. How about other Nigerian politicians of northern extraction who have laundered public funds and starched it away in far away UK?"
The same source alleged that a vigilante group guarding Ochanga market in Onitsha shot at the protesters. Other reports, however, claim at least one Ipob member was shot dead by the Anambra police. An image of the alleged dead man (see below) is circulating on social media.
This is not the first time that pro-Biafrans have accused the police of violence against them. The police denied the claims, while rights group Amnesty International said in an exclusive report by IBTimes UK that there is "credible evidence that pro-Biafran separatists in Nigeria are targeted by police".
IBTimes UK tried to contact police in Onitsha, but has not received a response at the time of publishing. In a previous interview, public relations officer for the police in Anambra state, Oleehkukyu Ali, told IBTimes UK that police have nothing against pro-Biafrans.
He said: "Our country provides freedom of association, speech and movement. But groups have to behave peacefully. Police in Anambra are operating a very open policy and leaders of groups should engage with us and let us know what they are doing so we are aware of protests."
It is believed that protests caused traffic jam and prompted some businesses in Onitsha to close.