The premiere plot for The Big Bang Theory season 10 is leaked online and this finally answer the questions that fans have been asking since May–Did Mary Copper and Alfred Hofstadter hook up? Are Leonard and Sheldon going to be potential brothers? Will Penny's family get along with Leonard?
Season 10 episode 1 is titled The Conjugal Conjecture, which will air on 19 September at 8pm EST on CBS Network. [Warning: Major Spoilers Ahead]
According to a leaked report, episode 1 will open with Penny and Leonard, who are sleeping in bed, talking to Sheldon, who is sleeping in his room, through walls . Sheldon alludes to the fact that he and him " could be brothers." But Leonard shuts him down by saying that it is ridiculous, and they are not brothers or step- brothers. A worried Sheldon also asks, "Is your father doing despicable things to my mother right now?"
In the second scene, Beverly arrives at the boys apartment, complaining about Alfred, and Penny is seen leaving to pick up her family from airport.
Penny's mother Susan (played by Katey Sagal) and brother Randall (played by Jack McBrayer) will make their first appearances in this episode. According to the report, Penny will share a funny scene with her family in the car, however, her mother, Susan is very worried about what Leonard's parents will think of them.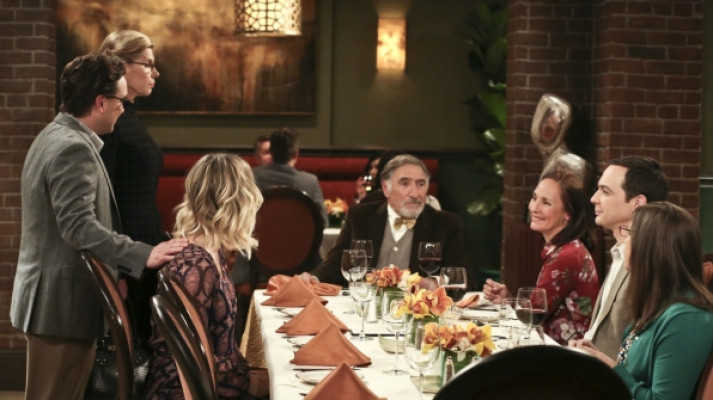 Then comes the most anticipated scene of the episode. Mary and Alfred arrive at the boy's apartment, after the whole speculation about them hooking up, and there is an awkward silence. Cooper makes the situation even more uncomfortable by confronting Alfred about sleeping with his mother.
Sheldon asks Alfred, "So, did you defile my mother?" and everyone is shocked at his question, especially his mother Mary. Leonard's father politely replies, "I can assure you we only had drinks and pleasant conversation." The report also states that a lot of drama will ensue between Sheldon and Alfred as Penny and Leonard go through with their second wedding ceremony.
Do not miss the 19 September premiere of TBBT to find out more about Sheldon and Alfred's discussion and Penny's dynamic with her mother and brother.