The Big Bang Theory season 9: Sheldon and Amy's ring mystery will be resolved in premiere episode says producer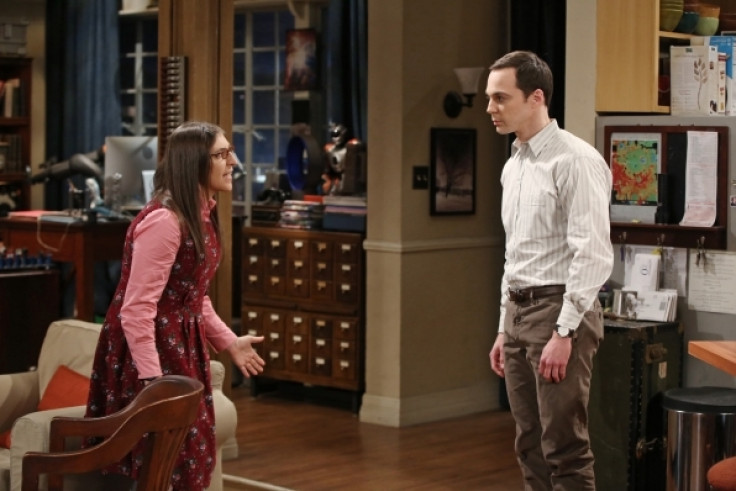 The Big Bang Theory season 8 ended on a cliffhanger, with Amy breaking up with Sheldon, just as the last moments revealed that he was planning to propose to her.
Sheldon is seen holding an engagement ring, which had been kept away in the top drawer of his desk for an unknown amount of time.
The Big Bang Theory showrunner Steven Molaro said, "The answer will be in the premiere episode of season 9," when asked by an audience member when exactly Sheldon bought the ring.
Steven Molaro appeared on a panel at Comic-Con on 10 July, alongside Mayim Bialik and Kunal Nayyar and revealed secrets about Sheldon and Amy's ring mystery.
Bialik discussed the complications of the Amy-Sheldon relationship and how they approach scenes with intimacy.
"It feels weird to qualify it like, 'It's great,'" Bialik said, of kissing Parsons's character. "Whenever Sheldon and Amy have intimacy, it's usually very specific. It's very gently placed."
The finale scene where Sheldon and Amy kiss was apparently crafted with great care.
"For everything we do that's intimate, it's very crafted. We're never cavalier about that," Bialik said.
Executive producer Chuck Lorre, who was also at the panel, revealed some interesting details about an episode where Sheldon (Jim Parsons) and Leonard (Johnny Galecki) had gone to Skywalker Ranch.
"In the first ending that got shot, we found out at the end that Sheldon had stolen a lightsaber," Lorre admitted. "I was deeply troubled. The character couldn't commit essentially a felony."
Previously, Mayim Bialik who plays Amy had spoken about the shocking season 8 finale episode in an interview with Los Angeles Times.
Bialik admitted, "We don't really know what the story is with that ring...And I think that's something I had to remember as an actor. We don't know what he was planning to do with it. We don't know if it was something he got from his mother. We don't know what the process was by which he acquired that and what he would think to do with it."
Bailik urged fans not to jump to any conclusion about Sheldon and Amy's future just yet.
"People want to jump to all sorts of conclusions," Bialik continued, "Because it's super-exciting to do so and they love these characters and they know them. But the neat thing about our show ... and Jim and my character's relationship is that anything can happen. And I think the finale was proof of that."
Do not miss The Big Bang Theory season 9 premiere episode which is set to air on 21 September on CBS.
© Copyright IBTimes 2023. All rights reserved.