Bigg Boss 7 contestants Armaan Kohli and Tanisha Mukherjee became infamous by forming a close bond with each other on the show, but the latest developments suggest that they are formalising the relationship.
They have often faced criticism from other inmates and fans watching the show, while there were subtle hints from host Salman Khan about their 'supposed' couple status. The fact that both of them often take decisions based on each other's opinions and not their own is something that has not gone down too well with fellow contestants and viewers.
However, in spite of all the brickbats, it seems that the couple is keen on moving a step ahead in their relationship. As per a report in Zee News, in one of the recent episodes of the show, Tanisha proposed her love for Armaan although in an indirect way. In reply, when Armaan asked her how much she loved him, Tanishaa went speechless and started blushing.
Although Armaan and Tanisha had always maintained that they are just good friends and do not need to clarify on any other grounds, prior to this, they had never officially spoken about any romantic inclination towards each other.
Meanwhile…
Sofia Shocks Inmates by Wearing Skimpy Bikini to Seduce Sangram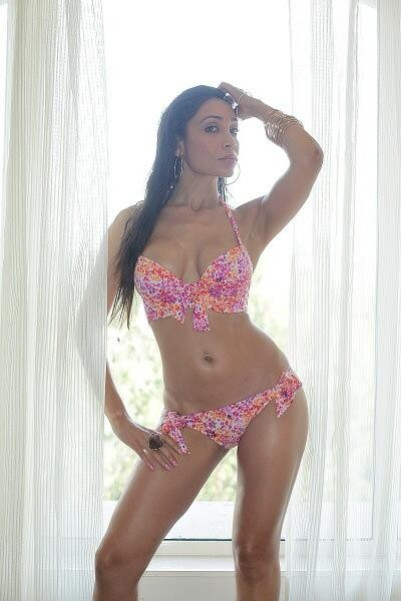 Sofia Hayat, British actress and singer, had stated in a Times of India report before entering the Bigg Boss 7 house that her way of dealing with anger will be: taking off all her clothes and jumping into the swimming pool.
She definitely seems to be following her words. However, she has restricted herself to just flaunting a two-piece bikini.
During the week's luxury budget task, 'Chor-Police' assigned by Bigg Boss, a briefcase was placed near the pool tied to a rope which was to be protected by the team playing police members. During the wee hours of Tuesday (November 19) as inmate Sangram Singh, as part of the police team, was protecting the briefcase, Sofia came up with a plan to distract him and steal it. She wore a two-piece bikini and tried her best to seduce Sangram but he paid no heed to Sofia. Other housemates including Armaan, Kamya and Tanisha looked surprised on seeing Sophia's antics.