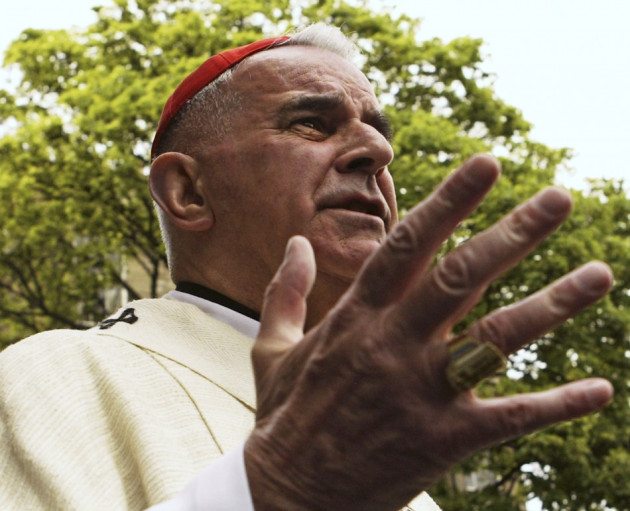 Stonewall has said it will go ahead with a 'Bigot of the Year Award' at its annual ceremony despite Barclays and Coutts both threatening to withdraw sponsorship.
Both banks have said they are considering pulling out of the lesbian, gay and bisexual charity awards after Christian campaigners complained about the bigot category.
The contentious award was announced by Stonewall in September. The charity described the intended recipient as "an individual who has gone out of their way to harm, hurt or snub lesbian, gay and bisexual people in the last year".
Nominees for the award include Archbishop Philip Tartaglia, who implied that the death of Labour MP David Cairns last year was partly due to his homosexuality; Lord Maginnis, the Ulster politician who likened homosexuality to bestiality on live television; and Christian Peoples Alliance leader Alan Craig, who has urged church-goers to "confront the gaystapo."
Coutts said: "Coutts are sponsors only of Stonewall's Writer of the Year Award and have in no way been involved in the judging or support of the Bigot of the Year category.
"We have advised Stonewall that we will be withdrawing our support of the awards unless they remove this category."
Mark McLane, managing director and head of global diversity and inclusion at Barclays, said: "Barclays does not support that award category either financially or in principle, and have informed Stonewall that should they decide to continue with this category we will not support this event in the future".
However Ben Summerskill, chief executive of Stonewall, defended the Bigot of the Year award by saying: "All the nominees have gone well beyond what anyone normal would call a decent level of public discourse.
"We welcome sponsorship from anyone who shares our core values, but we have an obligation to the 3.6 million gay people to do what is right, and highlighting extreme examples of bigotry when we know how harmful this unpleasantness is to the self-esteem of young people is right."
Christian Concern said it welcomed both banks' decision to withdraw funding. Andrea Minichiello Williams, chief executive of the organisation, said: "I am relieved that Barclays and Coutts have responded so quickly and decisively to distance themselves from this derisory award.
"In seeking to humiliate and intimidate those who hold mainstream views on marriage rather than engaging with their arguments, Stonewall is stifling robust public discussion of an issue of great importance to the future of our society.
"It is deeply ironic that an organisation that claims to be opposed to bullying and even runs an initiative in primary schools entitled 'Celebrating Difference', responds to difference of opinion by resorting to name-calling that, were it not more sinister, would be reminiscent of playground antics."
The Stonewall Awards will be held on 1 November at the Victoria & Albert Museum in London. They will be hosted by Gok Wan, who said he is "over the moon" to be part of the event.
He said: "It's an amazing opportunity to celebrate some big names and unsung heroes who've made a huge difference to millions of gay people. Over half of gay kids are bullied at school, and Stonewall's leading the way to stop that. I'm so proud to be able to support their work."