T-shirts featuring Bill Clinton's face and the word 'rape' have been sold at the 2016 Republican National Convention (RNC) in what is the latest line of controversial clothing to go on sale at the Cleveland, Ohio event.
The T-shirt mimics the 'Hope' image of Barack Obama made famous during his 2008 presidential campaign and alludes to allegations made against the former Democratic president.
The T-shirt was co-created by former Trump adviser Roger Stone and InfoWars' conspiracy theorist Alex Jones, who have already been selling T-shirts and merchandise at the RNC with slogans such as "[Hillary] Clinton for Prison 2016' and 'Life's a Bitch, don't vote for one'.
Stone, who is still a key supporter of Trump for the US presidency despite leaving his campaign last year, was also photographed wearing the T-shirt outside the convention.
Juanita Broaddrick accused Bill Clinton of raping her in a hotel room in Little Rock in 1978, going public with the allegations in a 1999 episode of Dateline NBC. The allegations were denied by Clinton through his lawyer.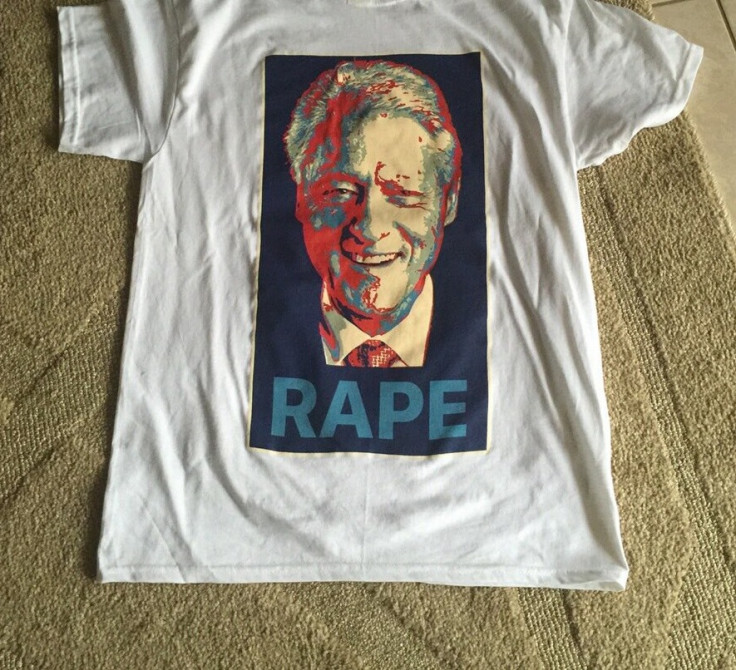 The Clinton 'rape' T-Shirt emerged as a woman who accused Trump of sexual assault in 1997 spoke out for the first time about the allegations. Jill Harth, a make-up artist who met Trump at a business presentation, told the Guardian newspaper: "I had to say: 'What are you doing? Stop it.' It was a shocking thing."
Trump's office denied the allegations against the Republican presidential candidate, describing the claims as lacking "any merit or veracity".