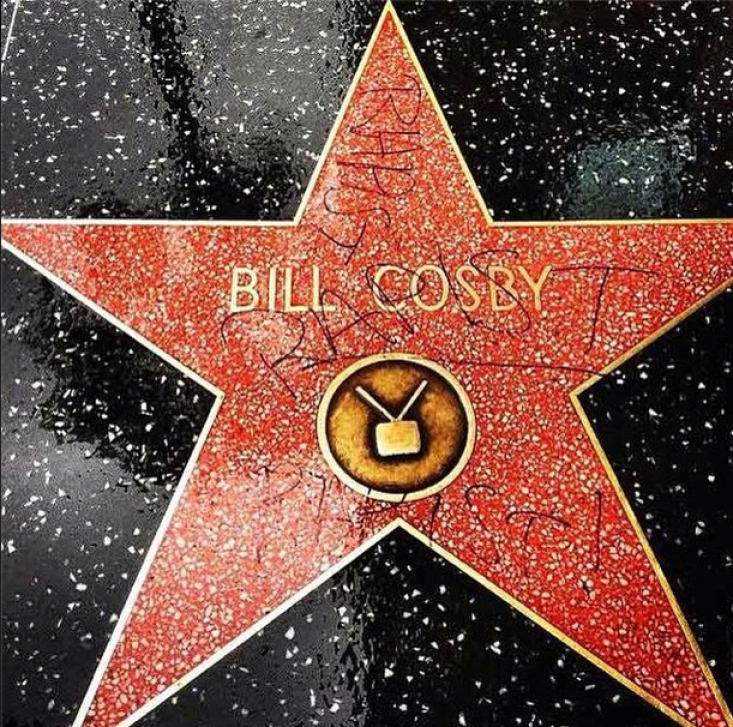 Bill Cosby's star on the Hollywood Walk of Fame has been defaced.
The word 'rapist' has been scrawled over the star several times, Variety reports. Responding to the act of vandalism, the Hollywood Chamber of Commerce released a statement.
"The Hollywood Walk of Fame is an institution celebrating the positive contributions of the inductees. When people are unhappy with one of our honorees, we would hope that they would project their anger in more positive ways then to vandalize a California State landmark. The star is being cleaned up at this time."
The US star has been accused by over 20 women of countless acts of sexual assault and rape.
Several high profile women including former supermodel Janice Dickinson, actress Louisa Moritz and Hulk star Lou Ferrgigno's wife Carla, have come forward to accuse the entertainer of committing acts of sexual abuse after allegedly drugging them.
The latest accusation comes from former Playboy bunny P.J. Masten who has accused the TV star of drugging and raping her, and sexually assaulting 12 other Playboy bunnies.
She claims that after a dinner date with the star she woke up naked and bruised in a bed after being drugged and attacked by Cosby. "There were bruise marks all over me," she said. "I knew I was raped."
She told CNN: "(There are) 12 former bunnies that I know of that are ashamed to come forward, frightened to come forward, married with families (and) don't want to come forward. But they were also drugged and raped by Bill Cosby."
"This man has to be held accountable. He's a serial rapist. He's been that way since the '60s," she added.
Cosby has remained silent over the reports of historical abuse, which are alleged to have taken place in the 70s.
Celebrity lawyer Gloria Allred has urged the actor to waive America's statute of limitations to allow his alleged sexual abuse victims to be heard in court.