BioWare is advertising sci-fi epic Anthem with a corn maze for some reason
Is the BioWare team okay?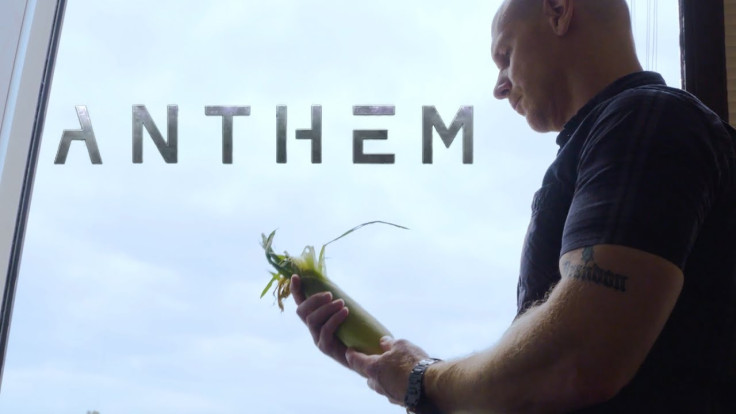 Huge blockbuster games are usually marketed at lavish media events with expensive trailers set to licensed pop songs, or crappy covers of them. For its upcoming sci-fi epic Anthem however, Bioware has elected a somewhat cornier strategy.
In their infinite wisdom, BioWare has decided they should advertise Anthem with a corn maze, creating one depicting the studio's logo and a 50-foot exo suit from the game (though it's a little tough to figure out that's what it is).
The studio, based in Edmonton, Canada, revealed the maze with the goofy tongue-in-cheek video below, which features the man responsible for planting the corn and mowing the maze's path.
In the video, game director Jon Warner says: "Anthem is something entirely new from BioWare, and so we wanted to promote it in a way that we've never done before... corn maze.
"Sure, we could have written something in the sky or on a billboard that covered the side of a building, but you know what's bigger than a building? A field."
Well that depends on the building Jon, and the field.
Anthem was announced at E3 in June. It's the brand new IP from the Mass Effect and Dragon Age developer and follows the release of Mass Effect: Andromeda in March. That game was considered a disappointment at launch, failing to capture the imagination of players in any way comparable to the original trilogy of RPGs on Xbox 360, PS3 and PC.
The situation reportedly led to BioWare shelving plans for a sequel and moving those working at BioWare's Montreal studio onto other projects at their bases in Edmonton and Austin, including Anthem.
Perhaps it also led them to making a corn maze for Anthem. Maybe someone should check in on them and make sure Bioware is doing okay.
Of course we do know why BioWare's marketing department chose this as their next stunt. It's so weird and unexpected the press wouldn't be able to resist covering it, and fair play to them, we couldn't.
Anthem has been set a tentative 2018 release window on PS4, Xbox One and PC.
© Copyright IBTimes 2023. All rights reserved.