Bitcoin rates have dropped for the twelfth consecutive day on 30 July as investors remain concerned about possible regulation of the currency among other adverse events in the industry.
Bitcoin is trading at $578.98 (£341.93, €432.24), down 0.56% as at 10:18 am BST on 30 July, according to CoinDesk Bitcoin Price Index. On 29 July, bitcoin closed at $582.20, representing the 11<sup>th consecutive day of decline.
The last time bitcoin rates rose from the previous close was on 18 July, when it closed at $628.22.
On 25 July, prices went below $600, losing its long-time stability after trading above the mark over the previous 30 days.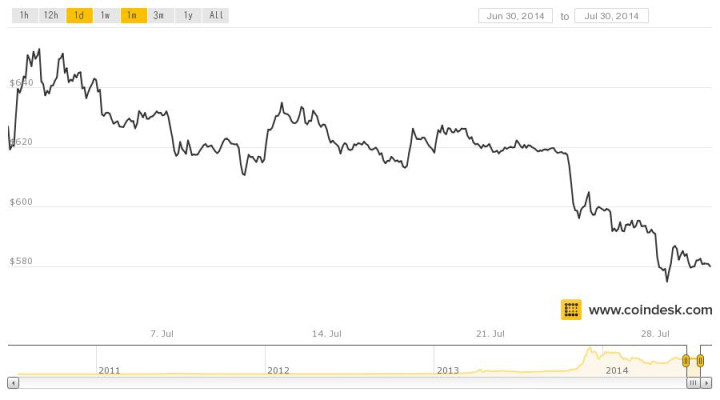 New York's proposed regulations to control bitcoin businesses have been one of the industry's hot topics last week. As per the proposal, firms would have to obtain a license to engage in virtual currency businesses.
The regulations are intended to "strike an appropriate balance that helps protect consumers and root out illegal activity — without stifling beneficial innovation," according to Benjamin Lawsky, the superintendent of the New York State Department of Financial Services (NYSDFS).
Meanwhile, some experts expressed concerns over the proposal, saying increased regulation would pressurise the bitcoin industry.
In a new interview with CoinDesk, Steve Stockman, US Representative for the 36th Congressional District of Texas, called New York's proposals too onerous considering the relative infancy of bitcoin.
He added that state-based regulators are being too aggressive in their efforts to impose rules on the digital currency.
"Many [doctors] are dropping out of the profession because it's overregulated. Now, what may happen to the bitcoin community is that, if there's so much regulation, there'll be a lot of people who say, 'You know what, I'm done with this. I'm not gonna do it,' and it's going to crush the industry," he said.
In further adverse events for the industry, New Zealand-based bitcoin ATM operator Bitcoin Central said it is closing doors due to local banks' refusal to provide financial services.
Bitcoin was launched in 2008 and is traded within a global network of computers. They can be transferred without going through banks or clearing houses, reducing fees involved in the services significantly.